Akira II – Blunt Graffix Release!
The highly anticipated follow-up to Blunt Graffix's 2015 Akira screenprint, Akira II is now available!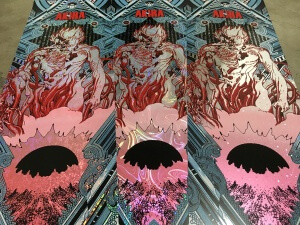 Based on the 1988 Japanese animated film, Akira, directed by Katsuhiro Otomo and written by Otomo and Izo Hashimoto, this vivid 11.75″ x 36″ screen print is made with 5 colors, split fountain, with transparent overlays and black light responsive inks!
Variants include a Pearl Foil, Lava Foil, Explosion Foil, Boom Foil, Cosmos Foil, Space Odyssey Foil, Nebula Foil, and White Vinyl Sticker.