Byous uses his unique surrealism style combined with his attention to detail to create some truly amazing works. He focuses mainly on using oil and pencil for his eye catching designs. He has been creating for some-time now, but is just recently making a bigger appearance in the print scene with his latest releases. We can only hope there is more to come! Sign up for his newsletter to stay up to date on releases and take a look at some of his other works here.
Here was a short Q&A I was able to have with him to get a deeper look into his art world:
-How/When did you first start making art and what inspired you to do so?
I don't really remember a specific starting point, I've been drawing for as far back as i can remember. I remember even back in 1st grade telling my mom i felt sick because i had a picture in my head, so i could stay home from school and draw. I remember it was an image of a hairy orange monster scaling the side of a building. Later on i got into doing digital work for t-shirt companies and steered more toward cartoony work, but I finally got pulled back into pencil/realistic work back in 2012. It was actually at church, and i was just standing there, not thinking of anything in particular. When an very elderly lady reached her arm up in front of me just for like 1 or 2 seconds. And it was weird, but it was like everything froze, and all i could see was her arm and all the amazing details, character and wrinkles of her withered arm. Like a roadmap of her life and experiences carved all over her.  Then i snapped out of it and have been working to get back to my roots of pencil and realism, and out of my digital/cartoon day job ever since.
-As an artist, is it difficult to keep finding inspiration to create new and unique pieces?
At least for the way i work, it's a little bit of both easy and difficult.  Easy because once my mind is completely clear and i stop "trying" and contriving, everything just pours out, and that's when all the best ideas and work happens.  But the hard part is often getting away from all the hustle and business mindedness of the world and clearing my mind in order to do that. But it does happen and it's pretty therapeutic.  But i usually find the best inspiration out of an absolute mental silence.  Absolute mind-numbing boredom can be very inspiring.
-Is there a piece of yours that you are most proud of? And if so, why?
It's tough to narrow it down to one but the large 8-9 ft pencil drawings are up there for me, because they were really relaxing to work on and and i like what their look and scale do to a room. And the guy with 2 horizontal faces (I don't have a solid title for it yet) is one because it took almost the least amount of thought, but still worked out, which is my favorite combination since whenever i over think an idea it totally kills the inspiration of it – And Carhead because it encompasses a lot of my favorite elements into one piece.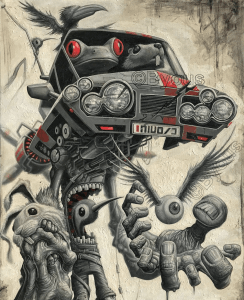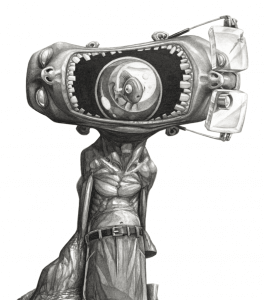 -Do you have a particular message or feeling that you want your art to convey?
Not directly and not intentionally. But i feel like a common root of a lot of them is about the limits of logic, understanding and linear thinking, and considering infinite potentials.
-Are there any artists in particular that you look up to or use as inspiration for your work?
I grew up loving the work of MC Escher, then i went through a phase of liking Dali's work. Then Frank Frazetta for a while. But later on I've really come to like the work of Rene Magritte. To me, how he makes the most mundane subject matter simultaneously boring and captivating at the same time has a great sort of vibe to it.
After releasing his 7th print design this past week he is turning quite a few heads in the scene and deservedly so. The latest release was an 11″ x 14″ giclee on 100% cotton rag printed in an edition of 89 and a variant edition of 45.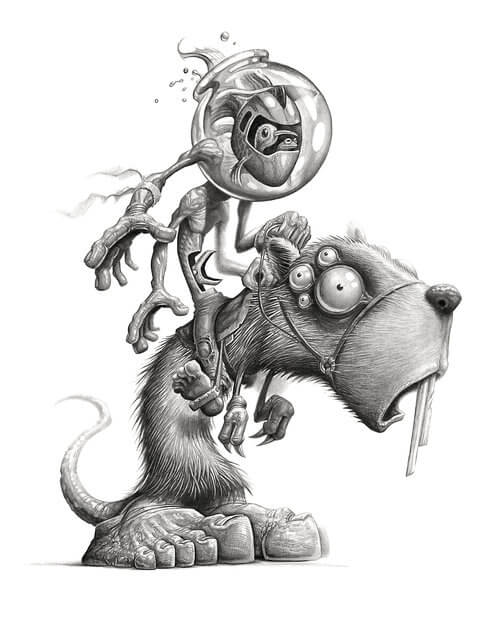 "Gopher Rider"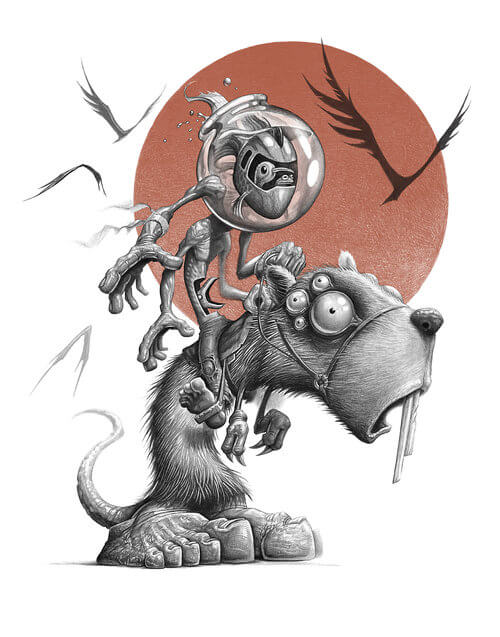 "Gopher Rider" variant edition
– Below are some of his previous print releases –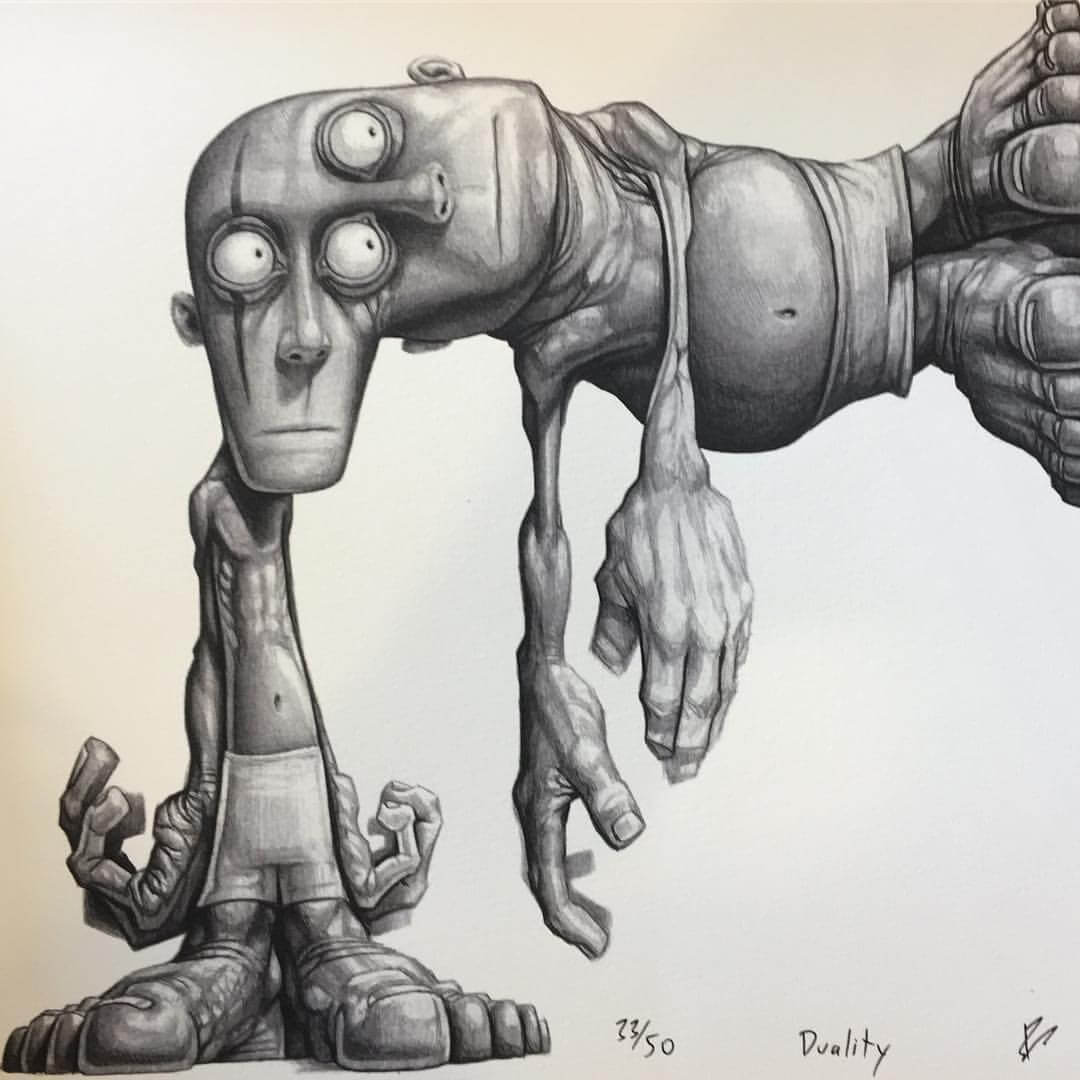 "Duality"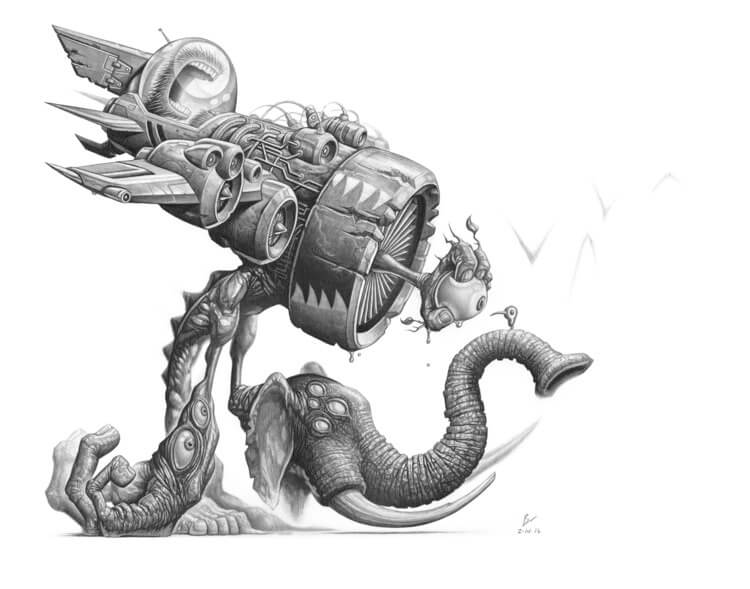 "Planehead"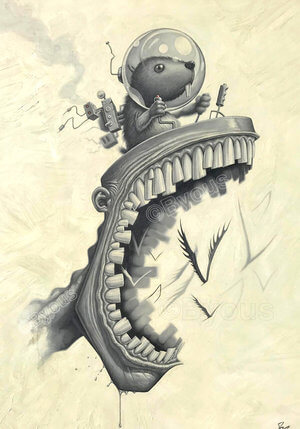 "Gopher Pilot"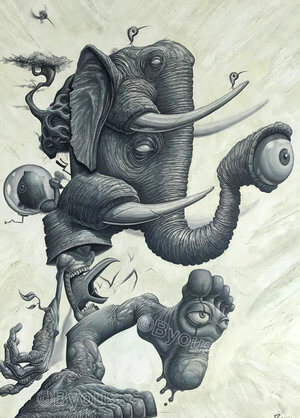 "Elephant Walker"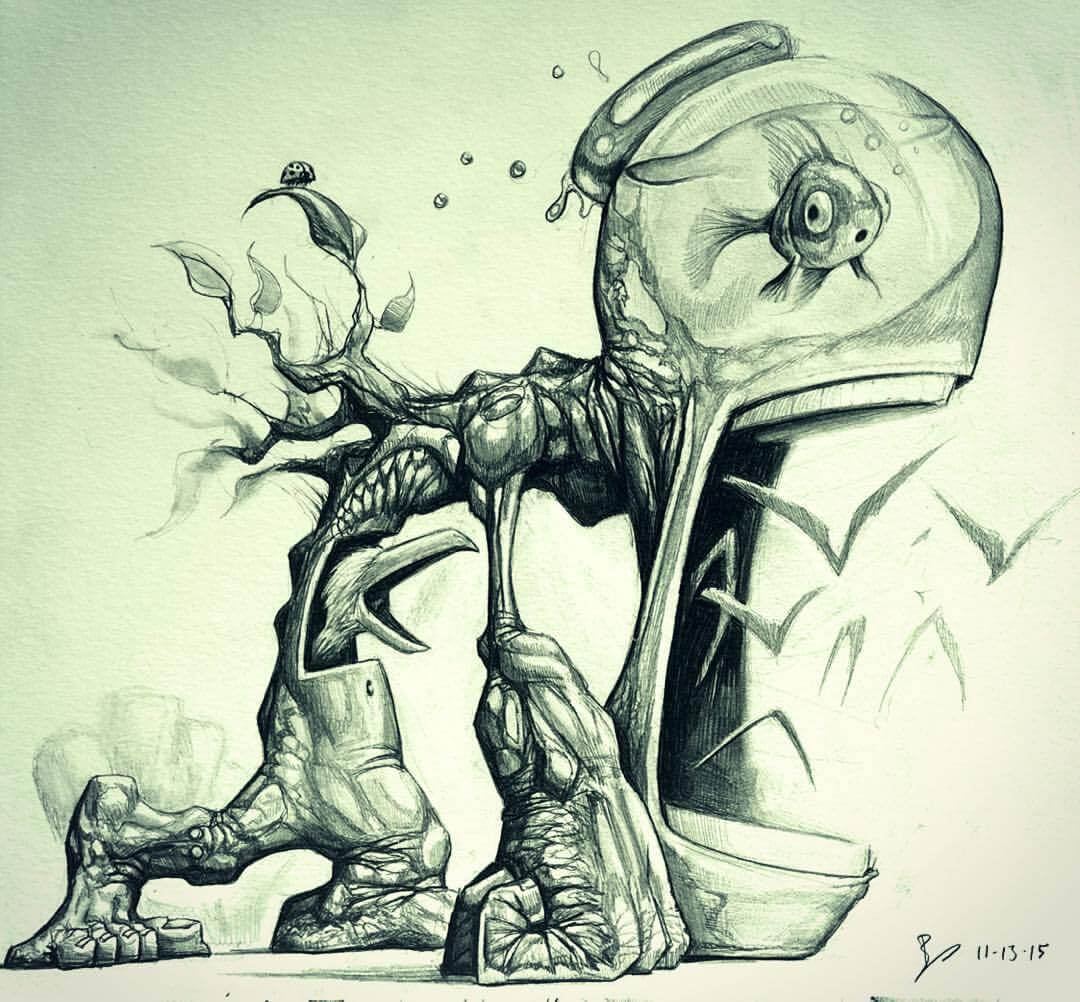 "Fishbowl"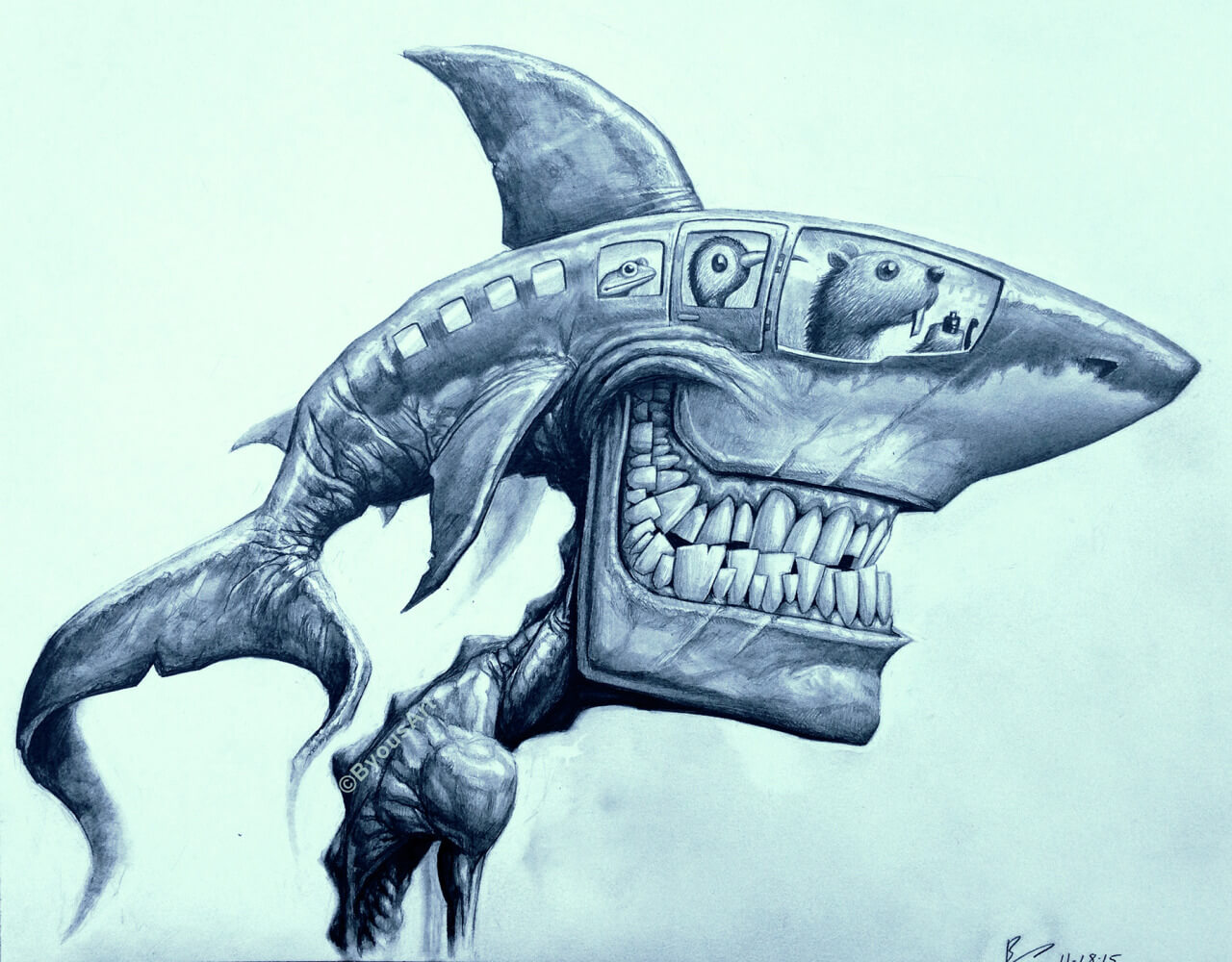 "Shark Head"
Written by: Conner Fine / Author