"In my paintings, reality and fantasy, loneliness and contradiction, were as unsettled as the waves in the circumstances of life. But it seems that orders of leading these confusion still exist, occasionally interrupting our excessive imagination. What is more interesting is that we need this imagination in the pursuit of truth to balance ourselves. Clouds in the "Journey in the Clouds series" are a medium between imagination and reality. People can enter the thinking corridor through it, looking for a process that looks like a fantasy or a sense of reason.Finally, the world in the painting and the world in which we see each other are like one. The real ideas and feelings seem to come out only for a moment, and silently be hidden by the sea of thoughts." Chengxiang Shang.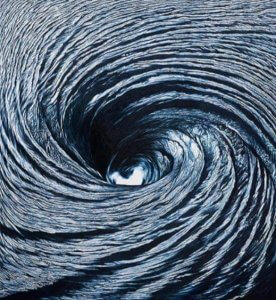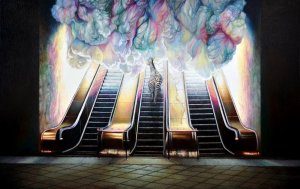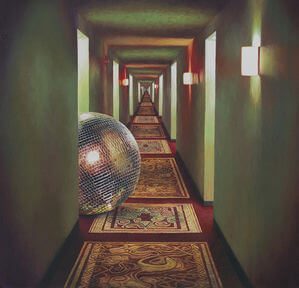 I was introduced to Shang's work about 6 months ago and have been obsessed ever since. His work speaks to me in ways art never has before. His work invokes my imagination, speaks to my subconscious, and has helped me learn some truths about myself. I still get lost in his creations and learn more about myself each time. Please forgive any grammar errors as I wanted to leave Shang's words original although I have been translating his words into english. Chengxiang Shang brings fantasy to life in his creations. He combines an explosion of color with surreal imagery to create stunning works of art. Oftentimes these explosions of color can be seen as billowing clouds as seen in Journey Into The Clouds, or as a color palette melting as in Self-Direction #1. Other times this explosion of color can be seen similar to oil on water, or the colors you see when seeing light through a bubble, or even a BMFG foil.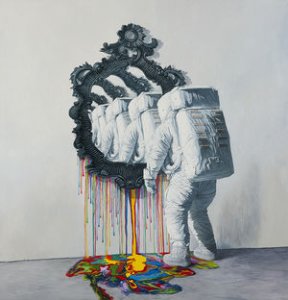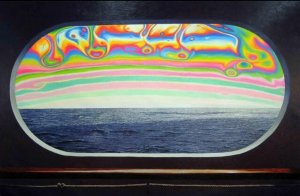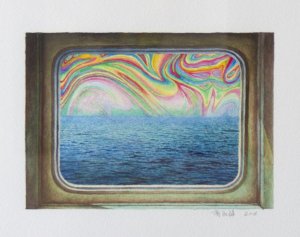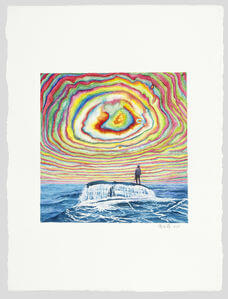 Shang also creates incredibly realistic paintings that I originally thought were photos.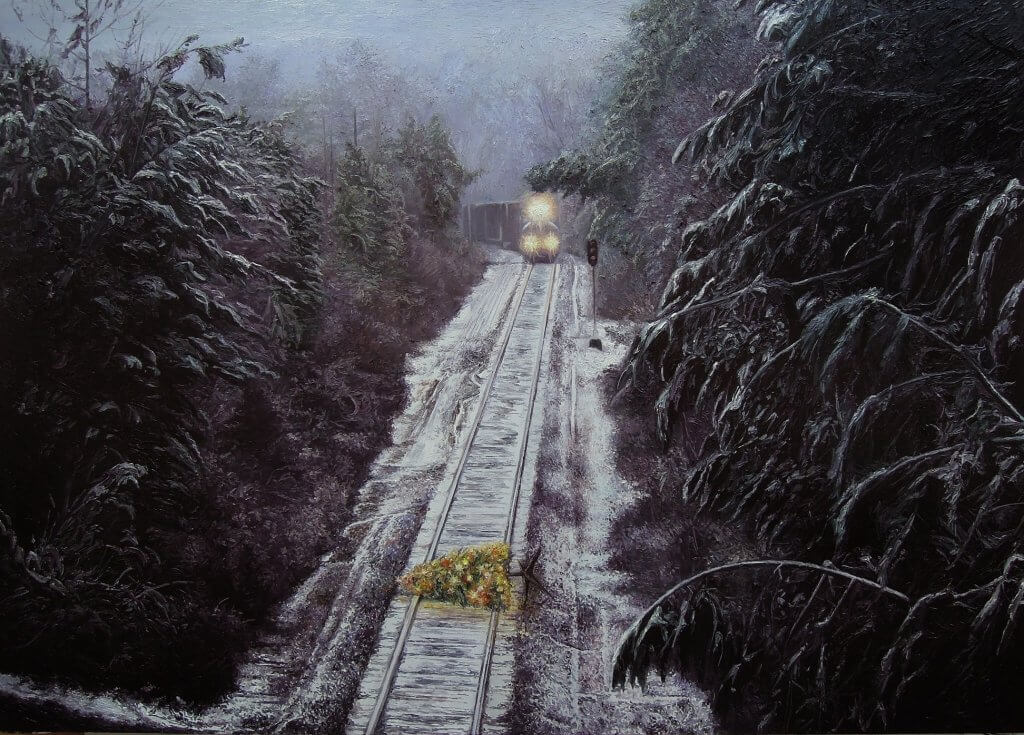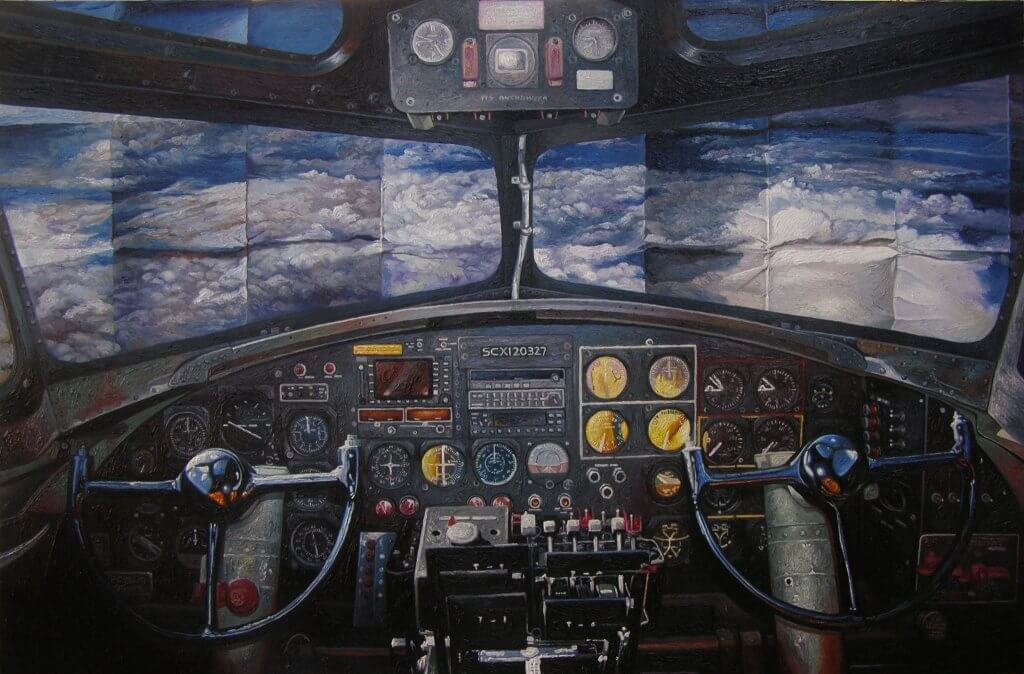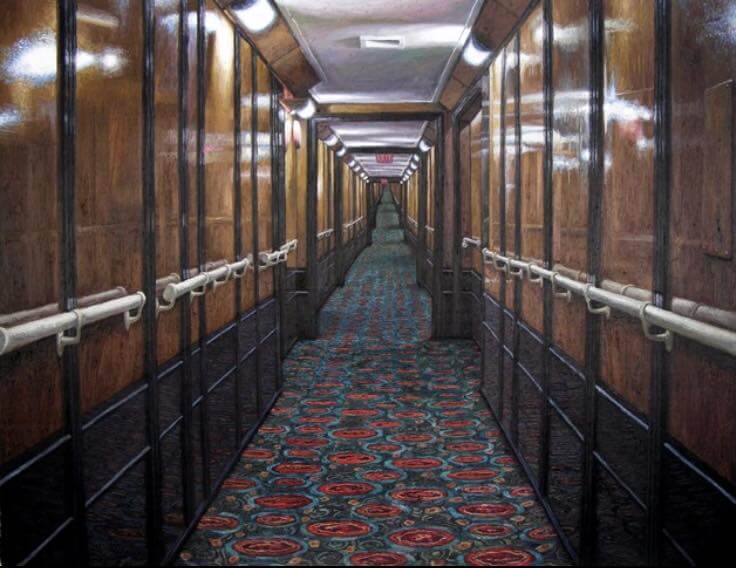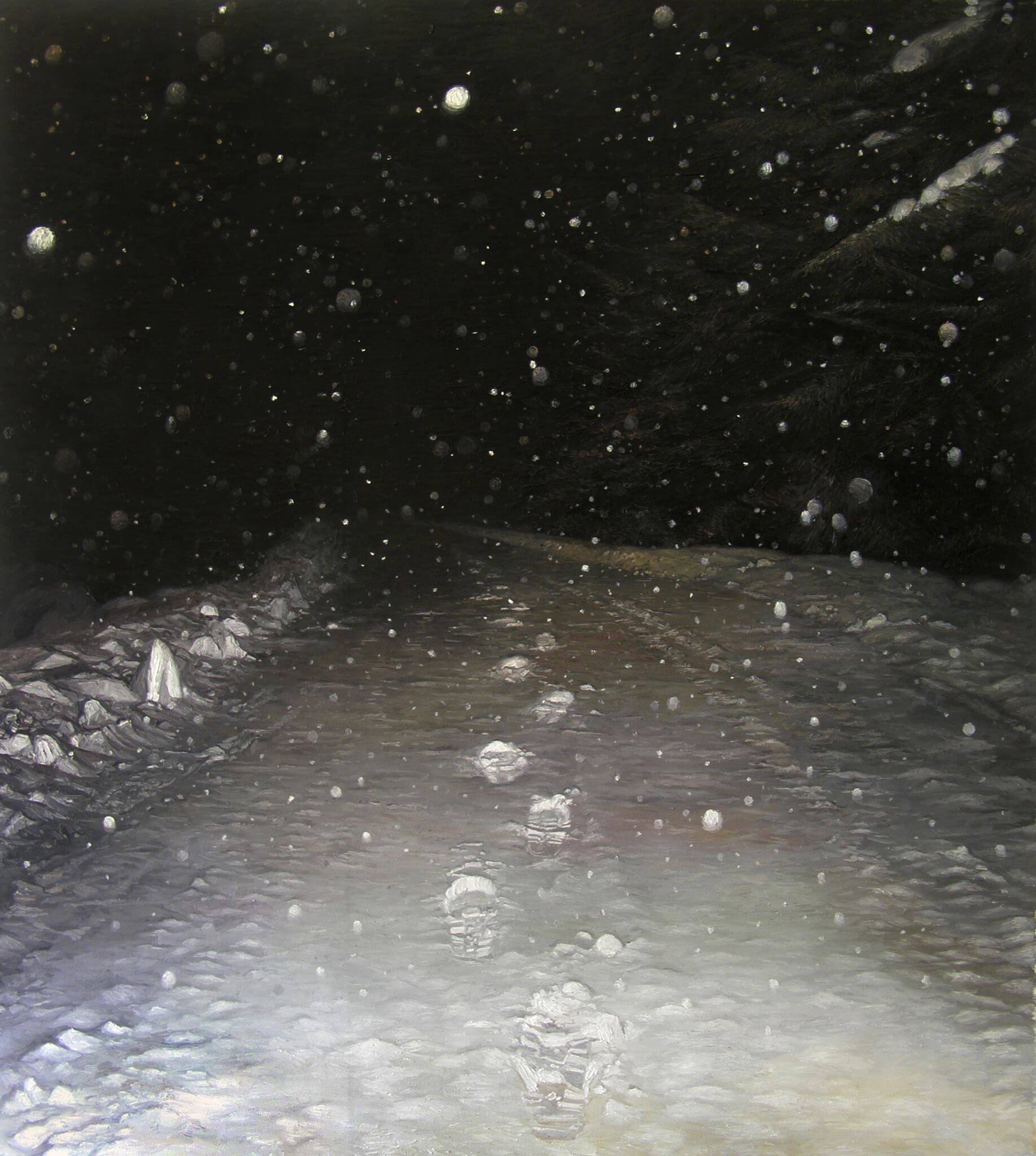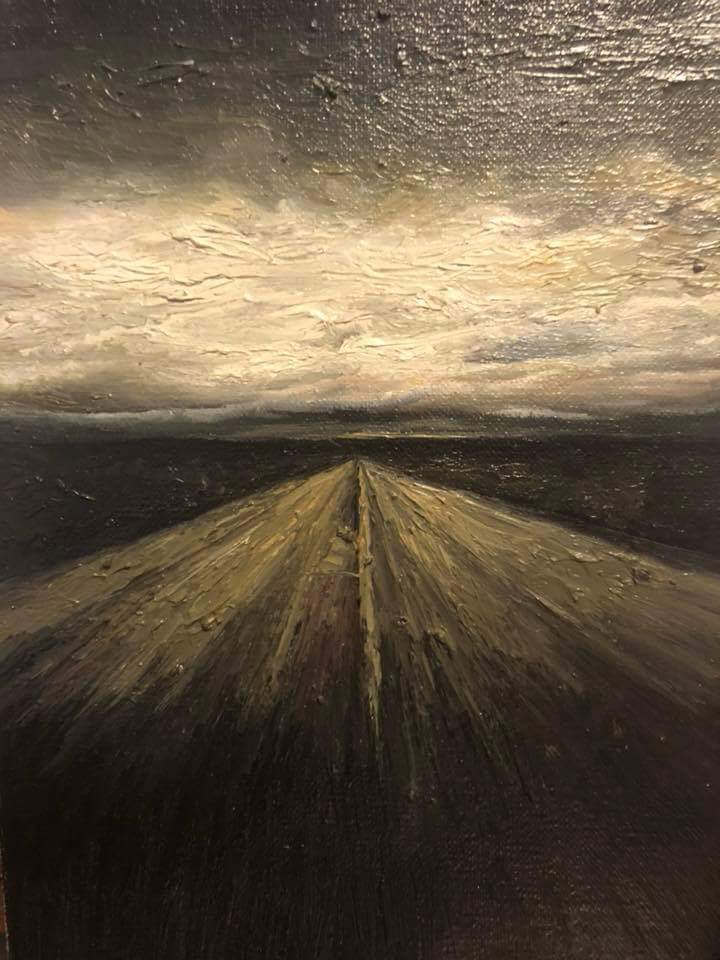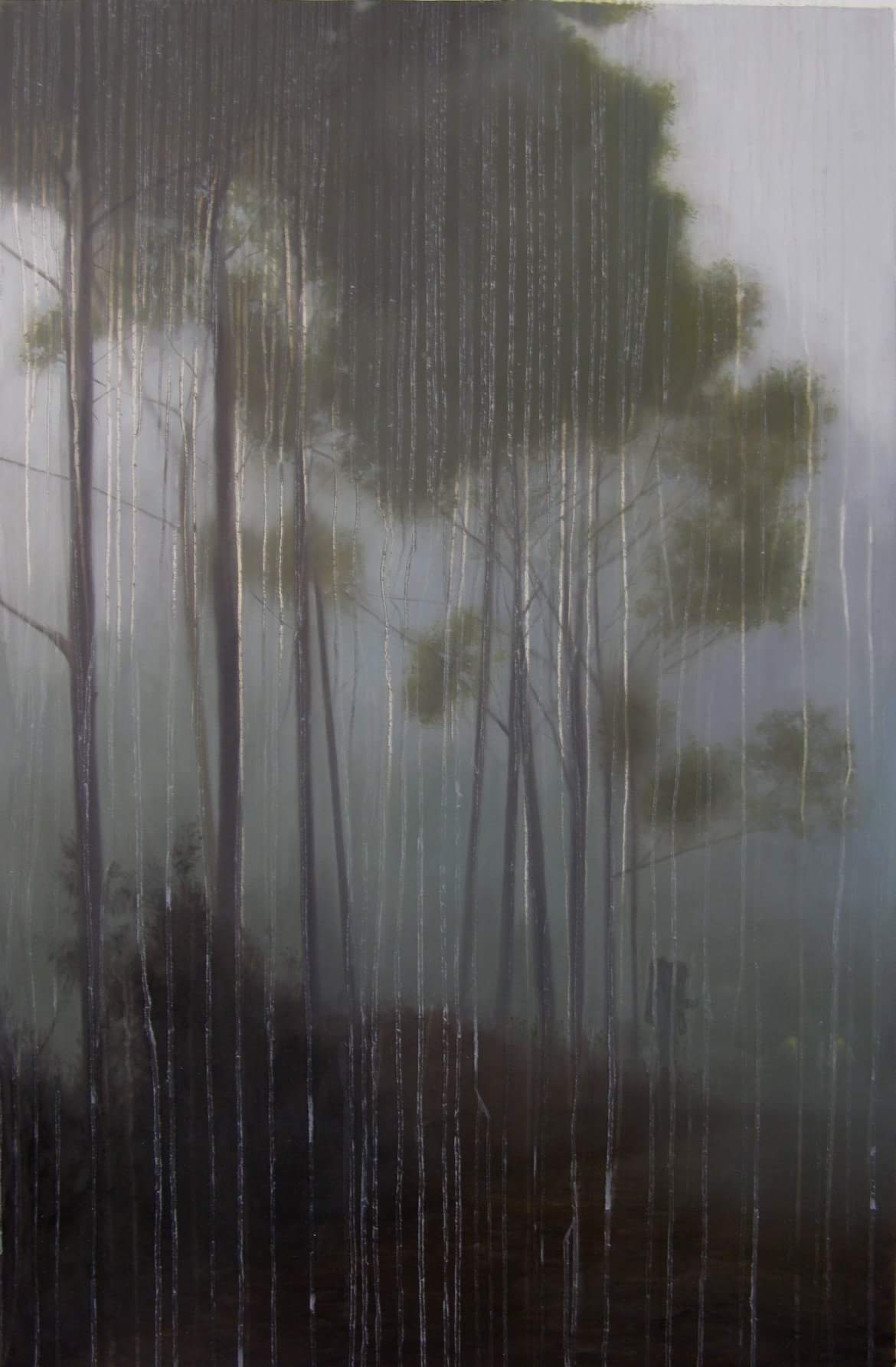 When asked about his artwork being described as tapping into the subconsciousness, his response is: "In the early days of my writing, expression of subconsciousness is not what I was looking for, however as time goes on, I realize the mystery of subconsciousness, and the importance of subconsciousness in our lives, after that I try to feel the connection between subconsciousness and real world. You know, it is difficult to look for it on purpose, from my side, reconstructing dreams is one of the best ways to go, I try to grab the special feeling every time when I have marvelous dream, and make it expressed in my work. I hope the subconsciousness is expressed as one kind of unconscious feeling rather than a specific theory which like Freud gives. From my work, everyone sees different things based on their own subconsciousness, I think that is what I hope to happen."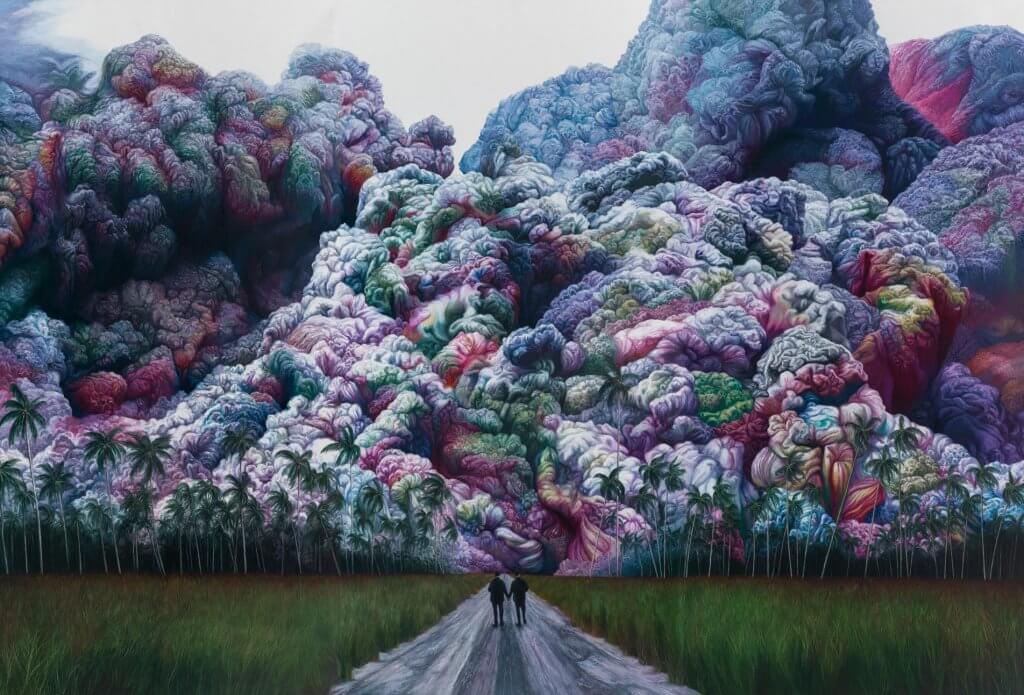 About his favorite painting "Journey in the Clouds #3" Shang says "When I worked on it, I decide to make the size as big as possible, by doing this, I try to make a visual impact. From the painting you can see a great quantity of colorful clouds by which a mixed space of reality and fantasy, real world and psychedelic world is created. The person on road has been divided into two half men, one of them belongs to real world, the other from the psychedelic world inside the heart. These two half men are on the way to the mixed space where they can be combined into a complete man. I think the road is the way must be passed when you want face something inside your heart!"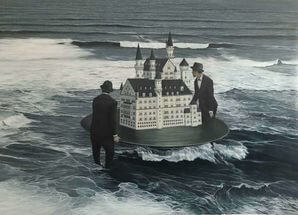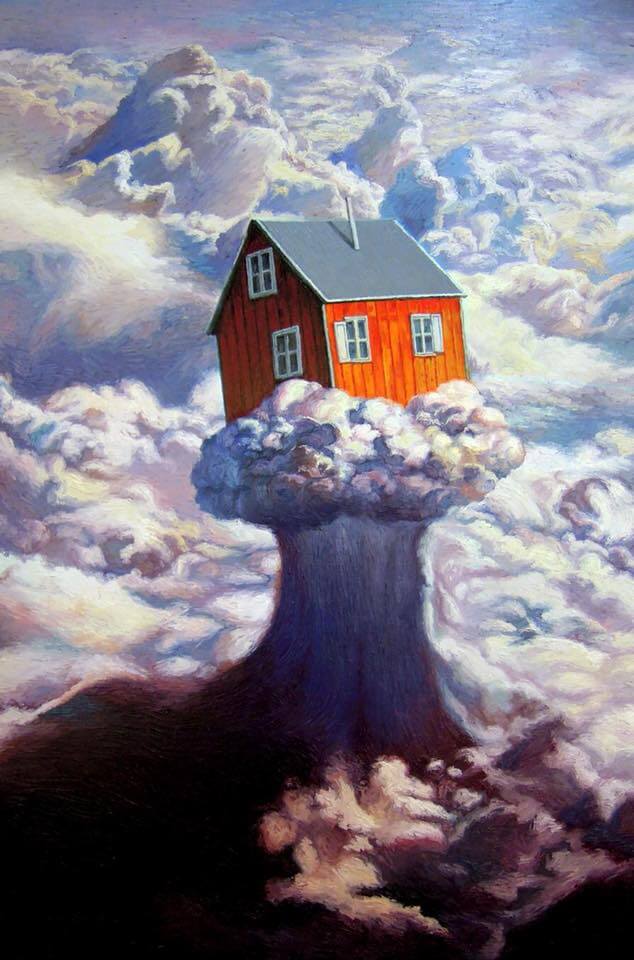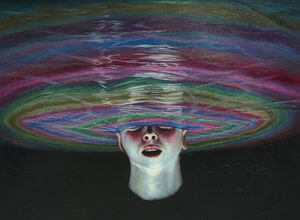 On the subject of setting in his paintings, such as the afterlife or a dream, Shang says: "I'd like to make my work full of different sentiments, joyous, sad, anxious, exciting … in this condition ,e.g. sadness would come into your head when you just feel the delight from the painting. I like to create an atmosphere of suspense where all of us tend to think about ourselves, tend to be confused. All of us are regarded as confusing thinkers in my painting world. I hope my paintings can be a motivation for people to find the confusion inside the heart, and to unlock it. The process of unlocking is also an spiritual interacting between audience and painter. Since you talk about the billowing clouds in my painting, I prefer to think them as the entrance of dream world, the desire from heart. Normally it is a fantasy world, it also can be the real world if you are satisfied with everything surrounding you. It depends on you!"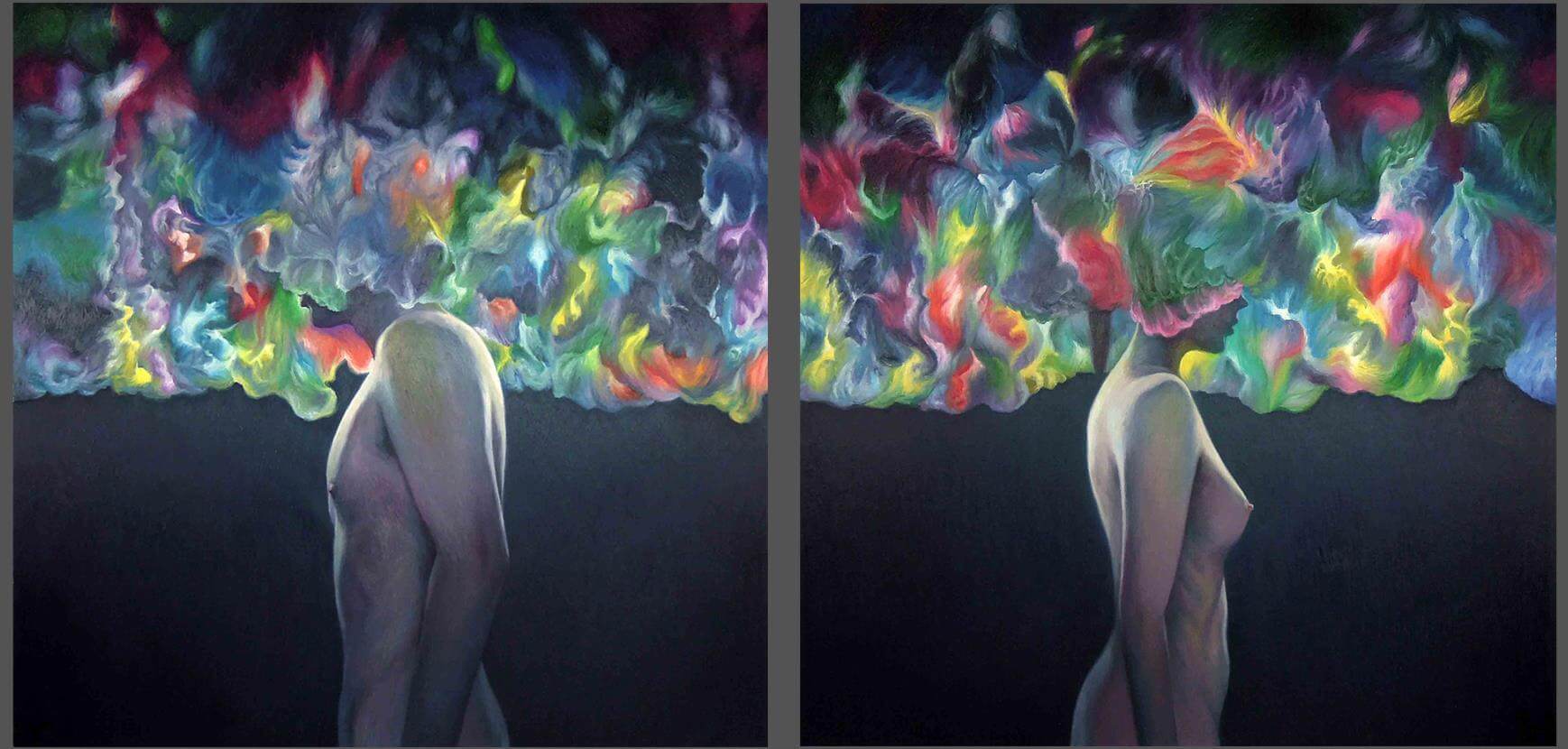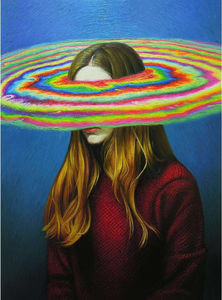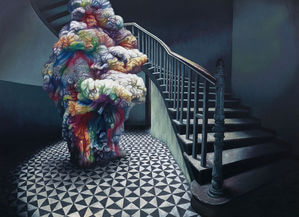 About his use of color: "I think color is the best gift that we were given. We know the mood and rhythm of a dancer can be adjusted and controlled by the background music. When we talk about painting, the mood and rhythm are under the control of color, but most of
time, I chose color without intention, what I do is just following the feeling I had at that moment. It's hard to explain, it is like instinct, sometimes you just know it is the right color without any thinking. I think it is a good way to let the color itself to lead the paint brush. Rainbow hue is used a lot in my painting, cause I think it is the exact color of nature, everyone can get their own color secret from it, and it is also a explore for me to using color."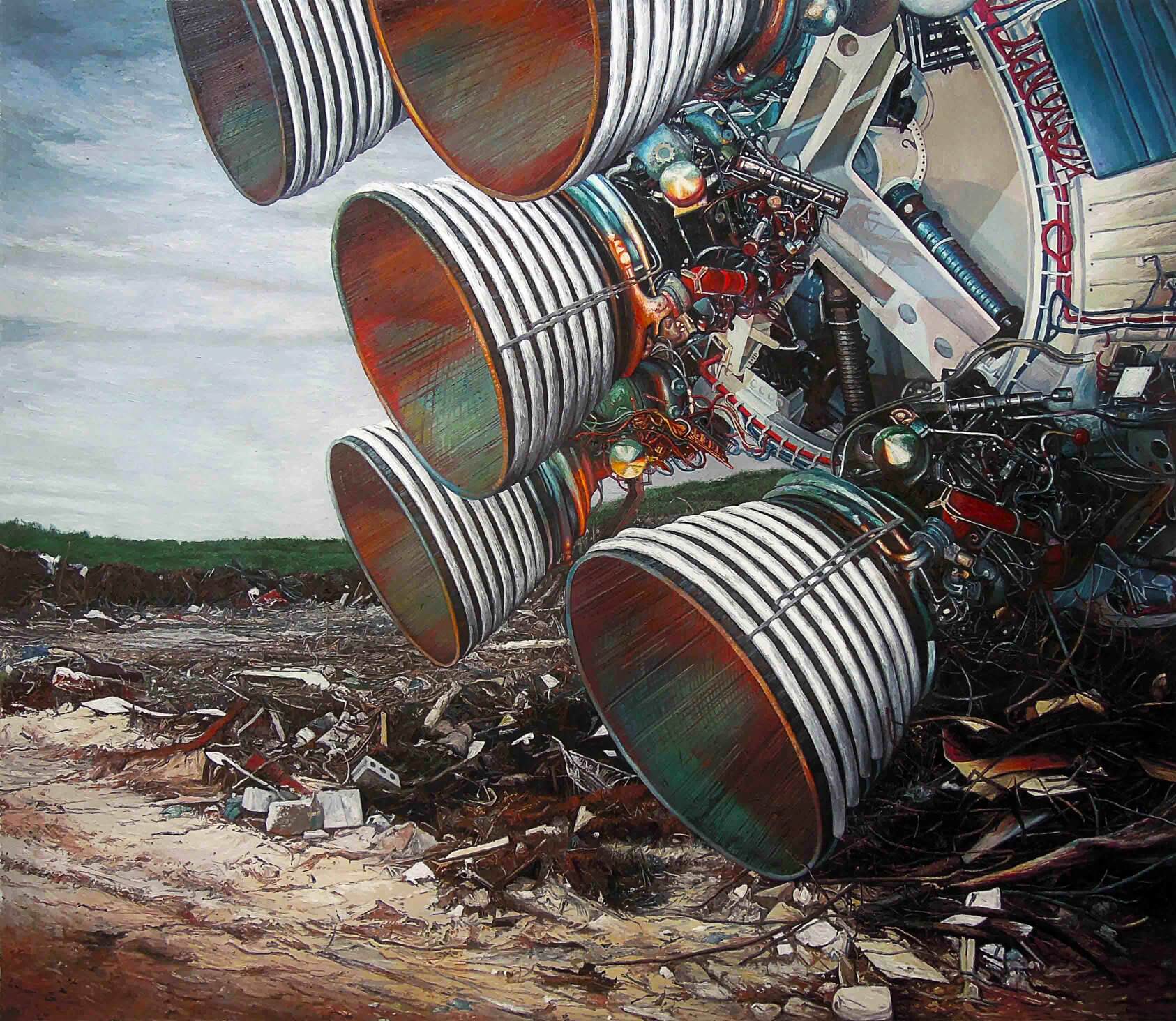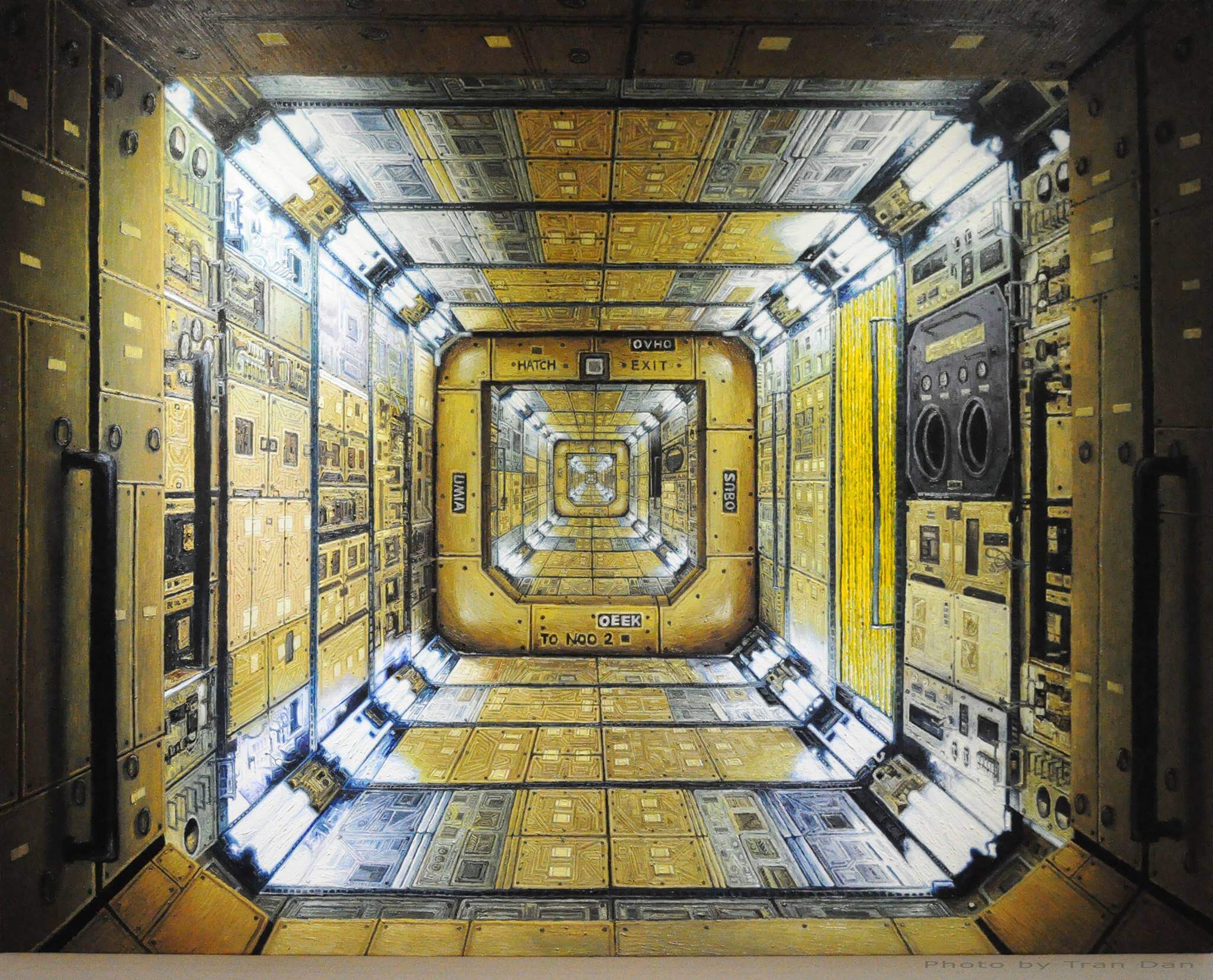 Shang's inspiration for "Wild Dream Fantasy no. 1" and other works with machinery is as he puts it: "based on the city, where I live and grow up. My city was a heavy industry city when I was a child. The whole city was filled with large machinery before. And as I grow up, the importance of heavy industry began to fade away because of the reform and opening-up policy of China. However, the visual impact of all these large machinery keeps a deep impression in my childhood. So in the early days of my work, I always want to try to make a combination of the old large machinery and modern world to express changes in the times by a "metaphor" way. Also, after that when I want to express exploration of inner heart of human being by a "metaphor" way, machinery like the aircraft and thruster are be regarded as the tool of this "exploration". The outer space and empty ocean are the inner heart of us. Like all these tools are the most advanced ones in mechanical science for explore external world, the tools we explore inner heart should be the advanced too."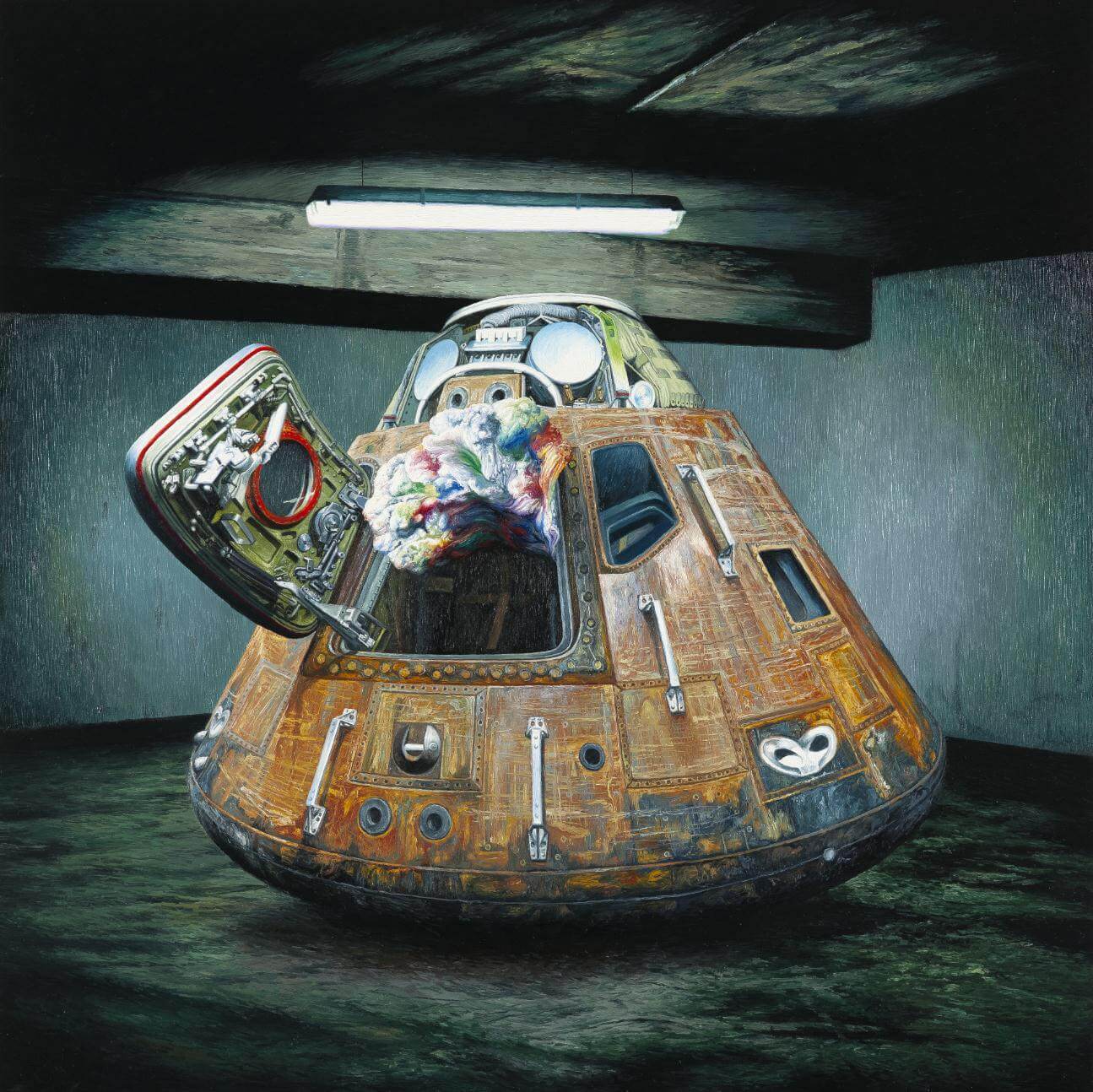 "The Self-Direction series and Borderline series are the main creations of my recent two years, which are the exploration of the self in the spatial dimension and the subconscious mind. The multiple spaces in Self-Direction series is that I hope to restore a real self by exploring different dimensions. The Borderline series has the most introspective elements, including my some considerations on ideals and reality at different stages."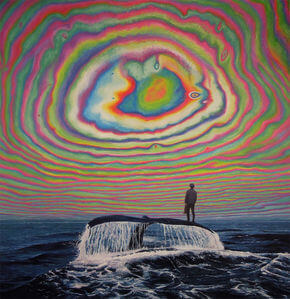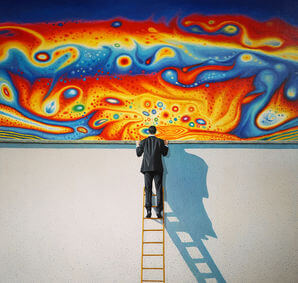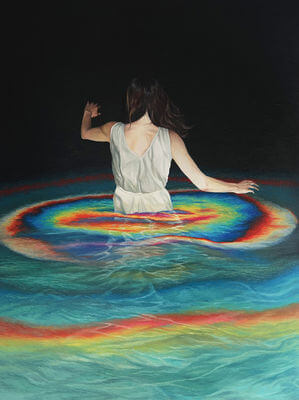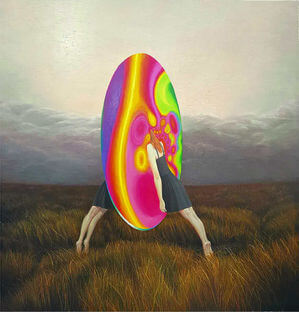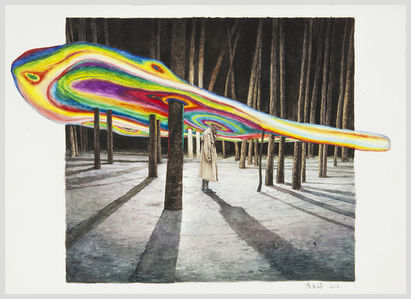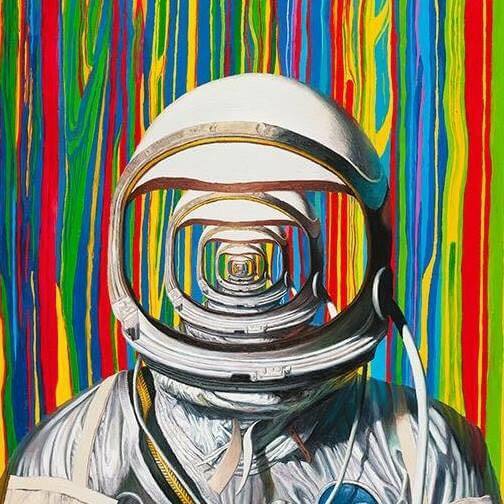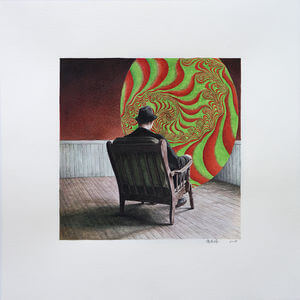 Self-Direction no. 1 appears as though the person is losing him/herself while trying to find him/herself. Self-Direction 2 makes me feel as if the subject had one of those "ah ha" moments when he/she finally gets an understanding of themselves or has an epiphany of some sort. I'm told you can have these moments while on psychedelics or while doing heavy soul-searching. 😊
"Fantasy is a must for every artist, it can bring you anywhere you want to go, however I think it is still under the control of some kind of rules in the universe, like the rope attached to the kite. In the working time, I always feel my thoughts be pull back to real world when it tend to be out of control, so I create journey in the clouds and borderline series to express my special feeling about the connection between fantasy and real world, and the rule it follow. And in my opinion, all these feeling should be express in the view of an onlooker."
On what Shang wants the audience to take away from his work:  "I hope they can gain new insights into themselves, and find themselves."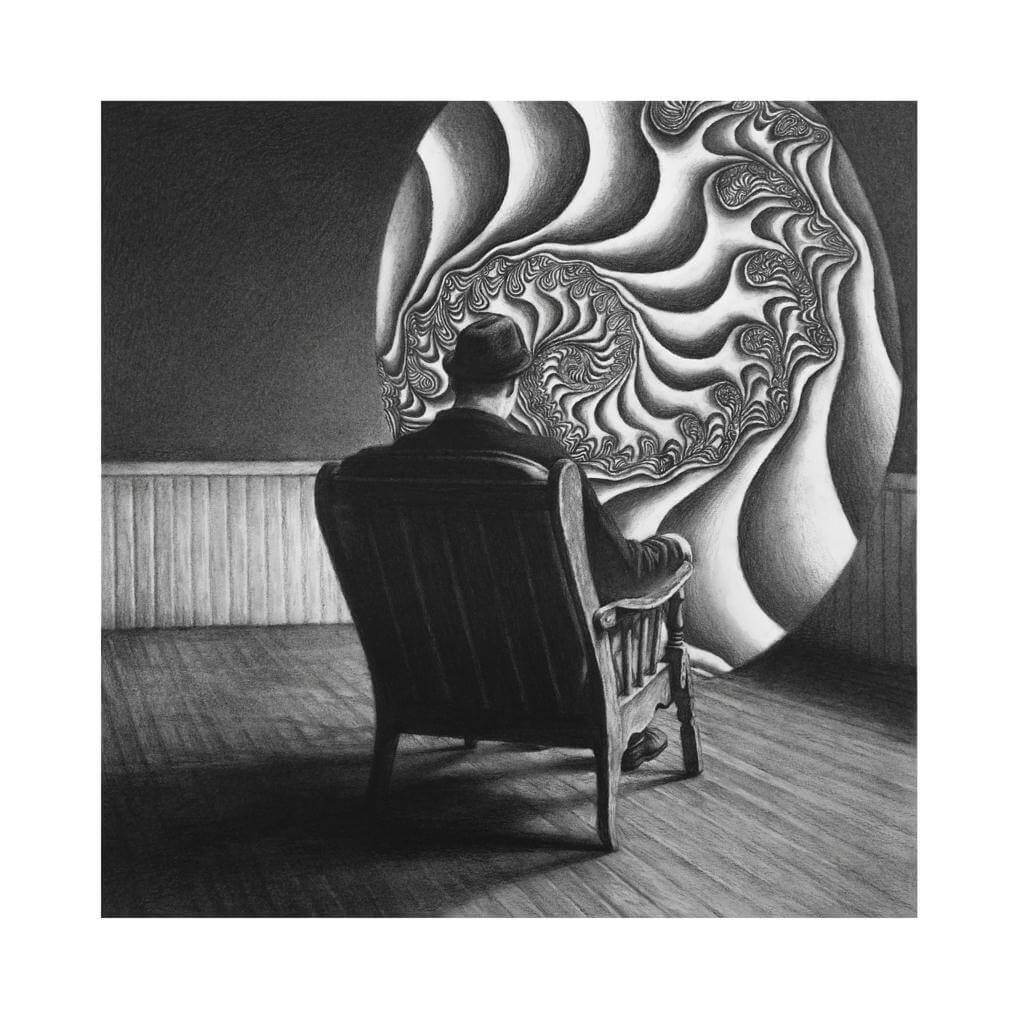 On how he describes his practice changing over time, he says: "You can find big difference between my work in the early times and my work recently. In the early times, I used to do a lot of practice and try different ways of creation. My creation time was very concentrated at that time. Many painting were produced in one year at that time. After years of practice, I slowed my pace of creation, now I spend a lot of time on conceiving my painting, sometimes, it even take me half year. My paintings recently are really works with sweat and long working hours." "My inspiration can be many kinds of things, it might be a poem, a melody, a dream, a picture. When something special get into my mind, I try to imagine it as a picture and express it by drawing with long time thinking and working."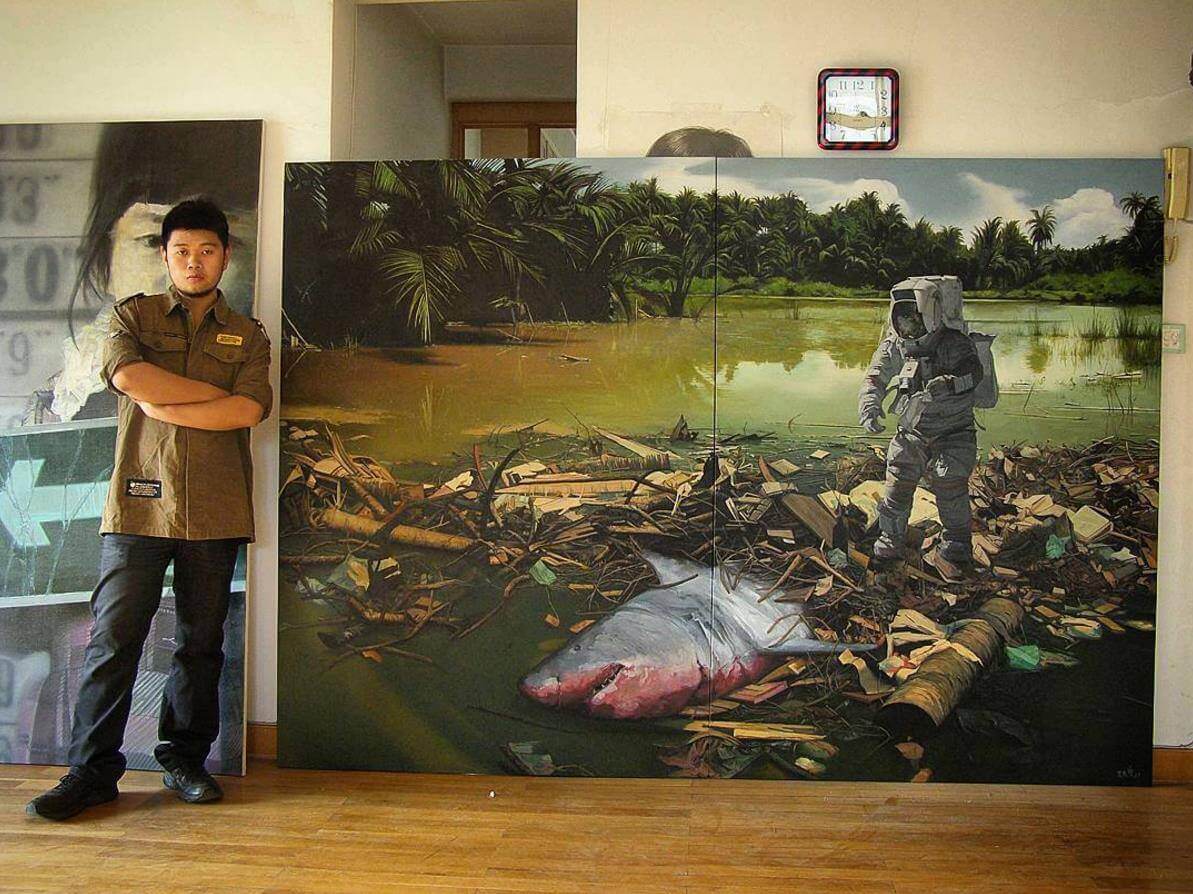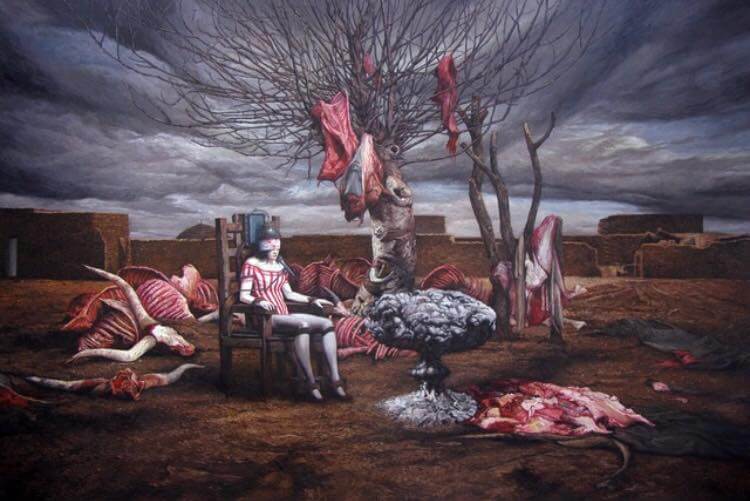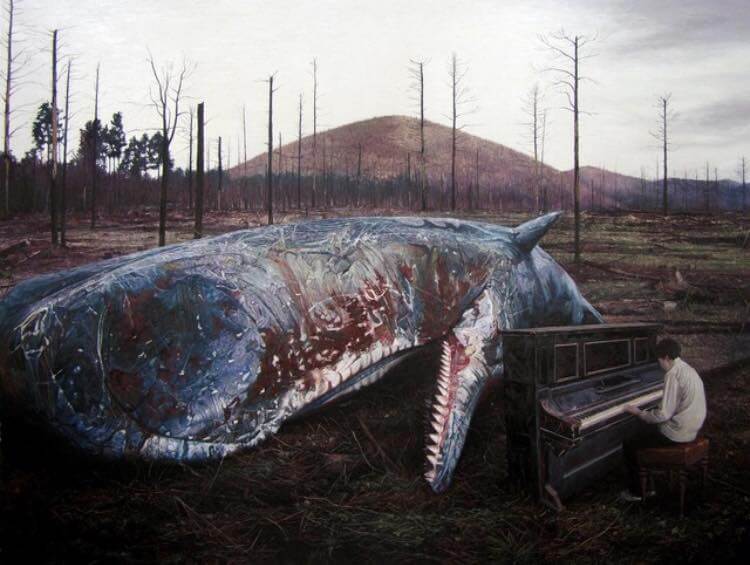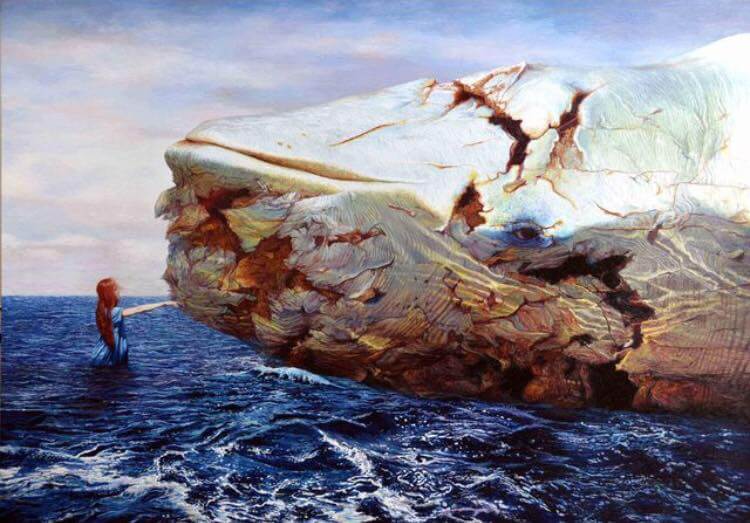 "The animals I painted were basically myself. In real life, I am an ill sociable person. Family is very important in China. I need to provide them with all the life. But I have not been able to achieve these needs for a long time (about 10 years). I always have a lot of fear and anxiety. And only painting is an exit in my life. So I will reflect my life in my paintings."
"In recent years of creation, some works with disco ball have been inserted from time to time, such as the "Entity series" and "unbounded series" series. I think life is sometimes like disco ball too, it reflects the reality and dream into your life through the mirror.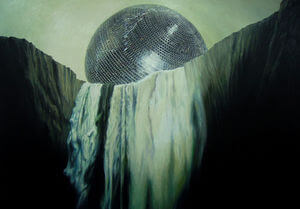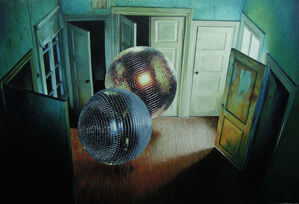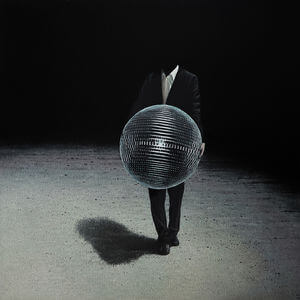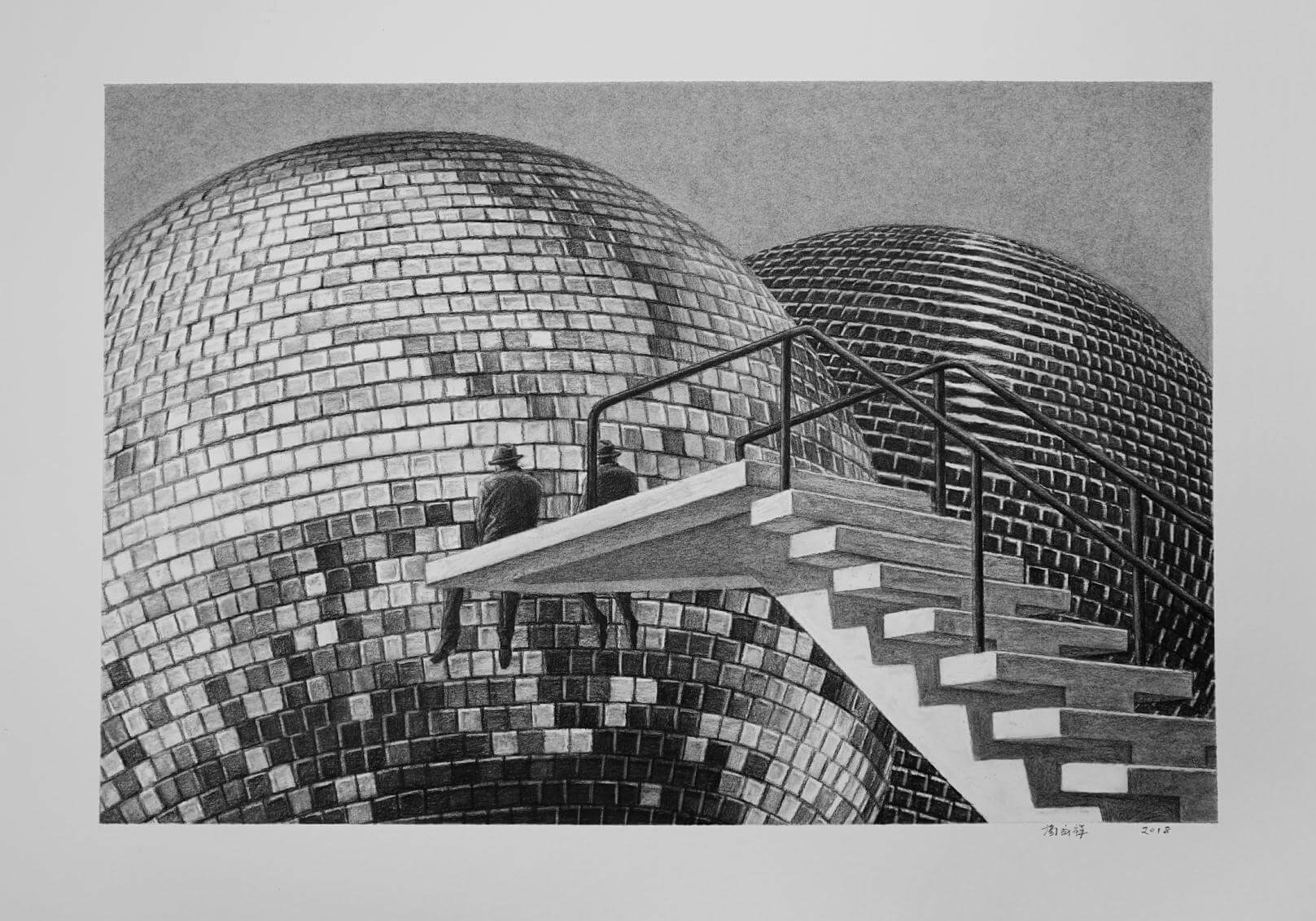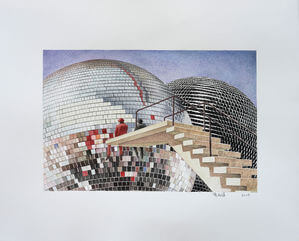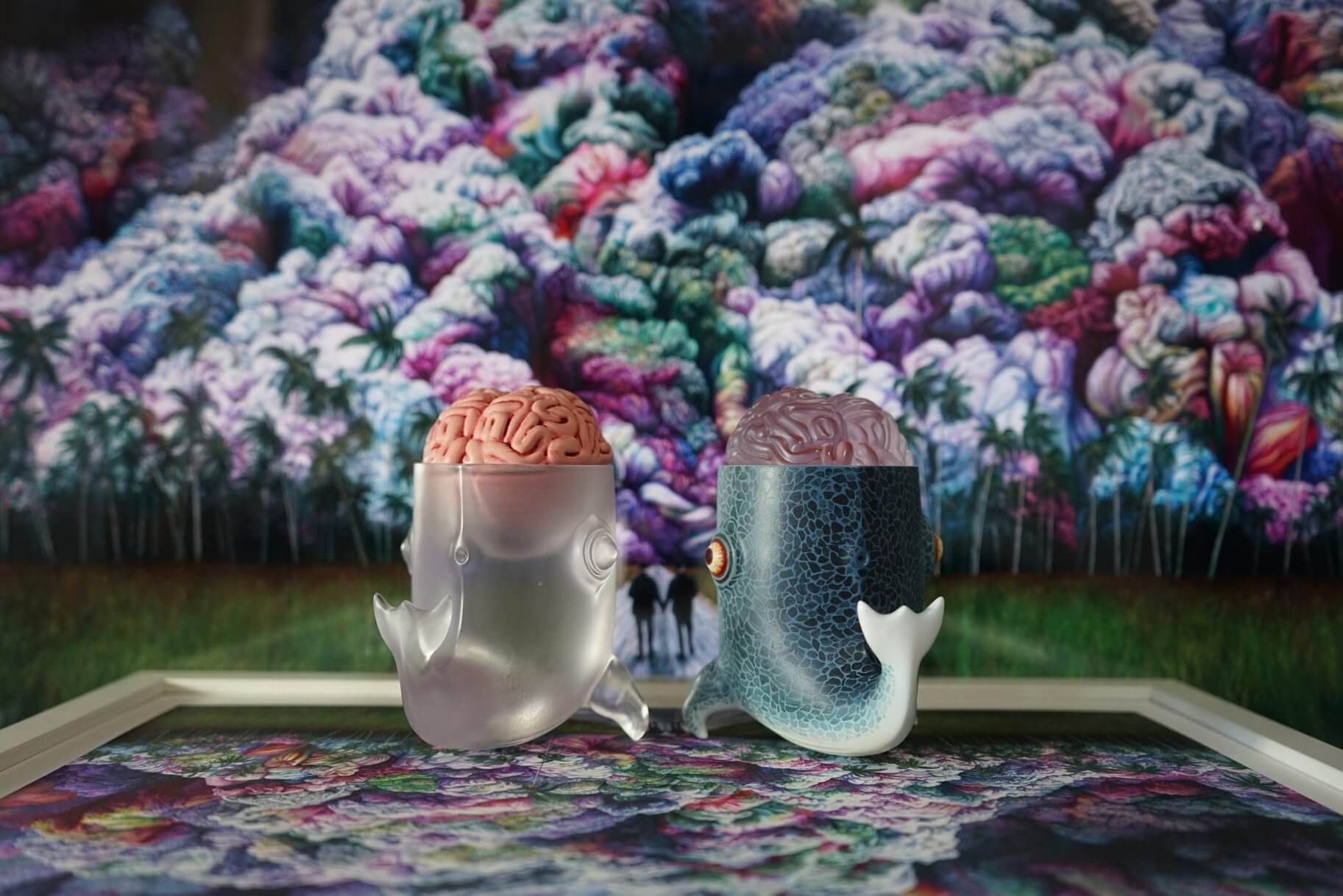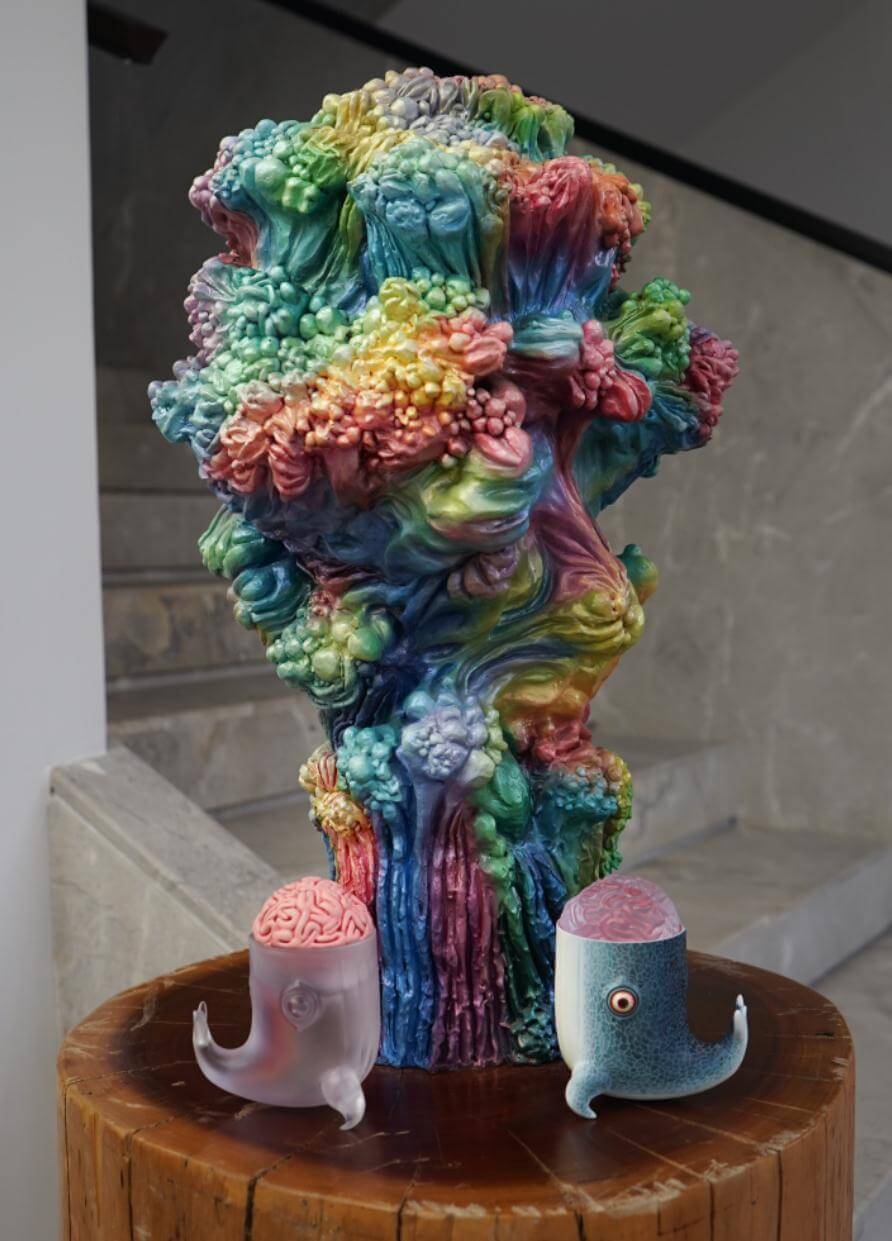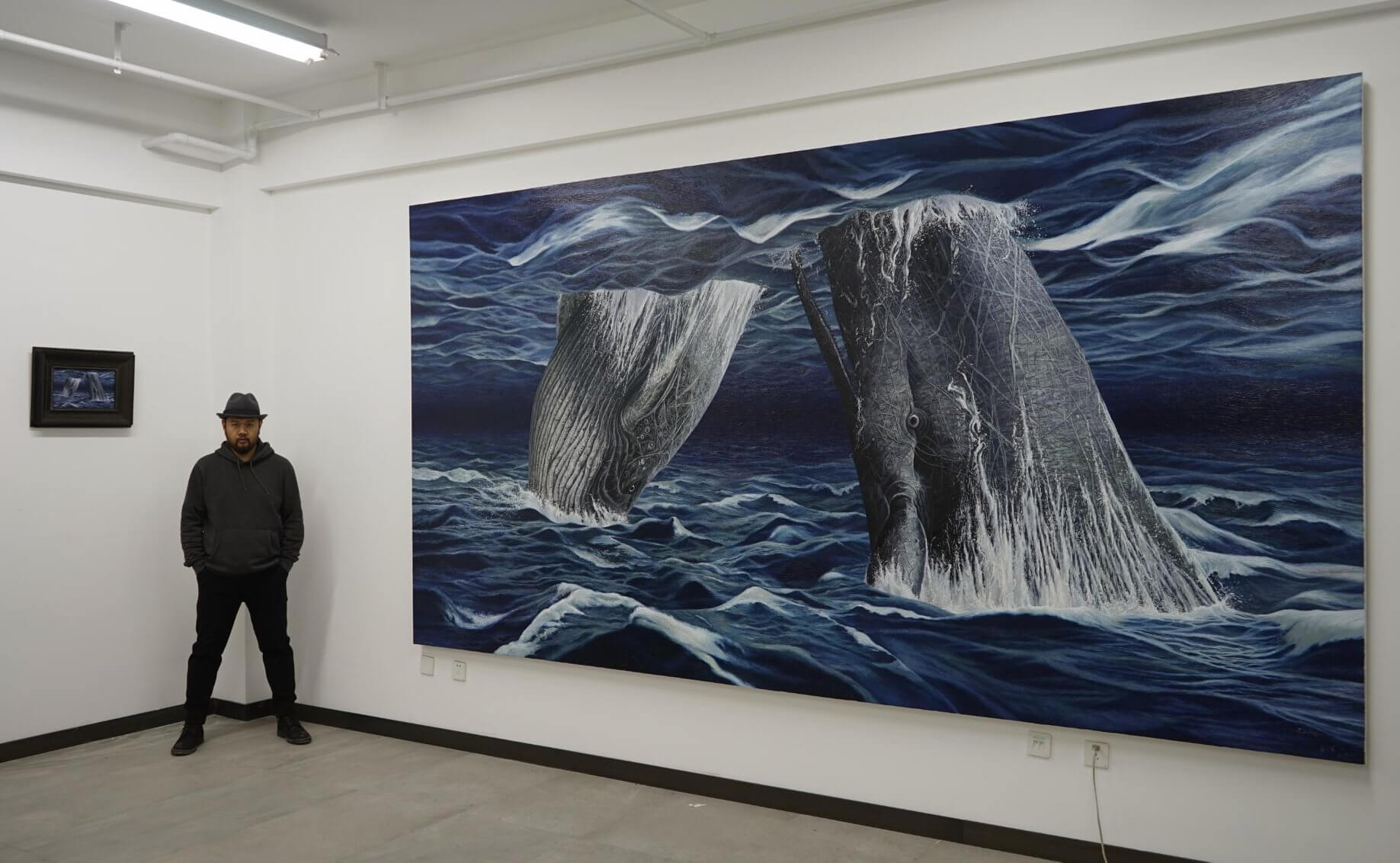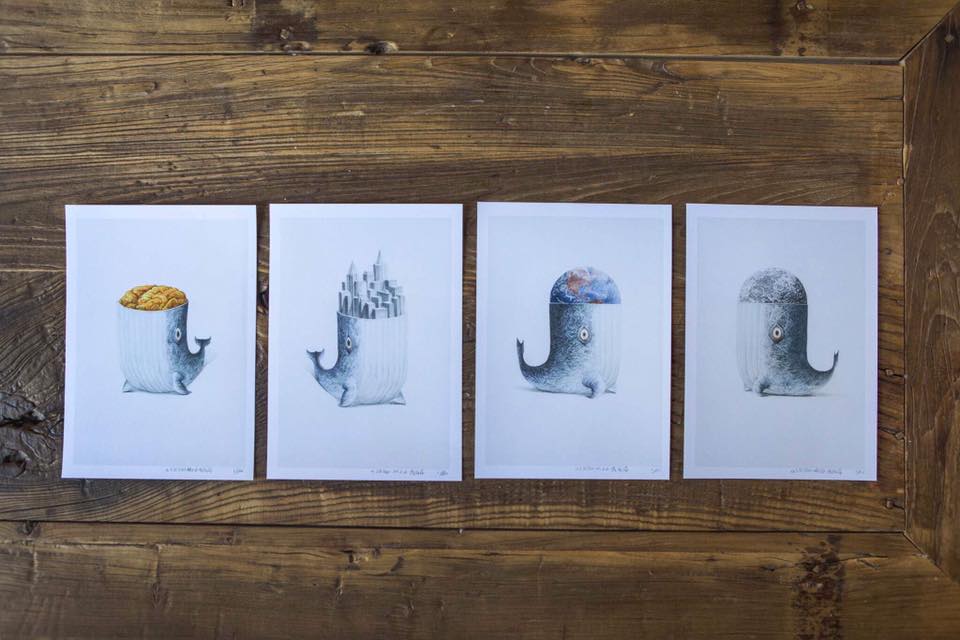 As you can see, Shang appreciates many different forms of art and media. He uses watercolors, oil paints, pencil, and sculpture. When asked what media he most identifies with and enjoys working with the most he says: "I like art in different forms, such as painting, sculpture, devise, light art, sound art, time art and so on. I like art can be expressed in different forms. Of course painting is my favorite one." On upcoming projects: "Animated cartoon has always been a dream for me. I want to edit my painting into an animation story. This is my wish. But I don't have the ability to make animated films yet."
The best piece of advice he's been given: "One of my best friend told me "try to find future self in the present " I think that is the best advice I was given. My goal for my career is to create better painting, painting with my spirit!"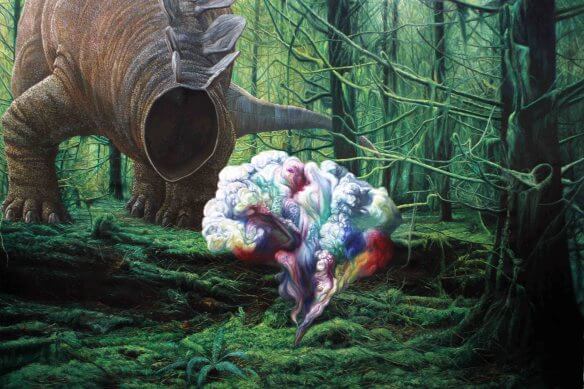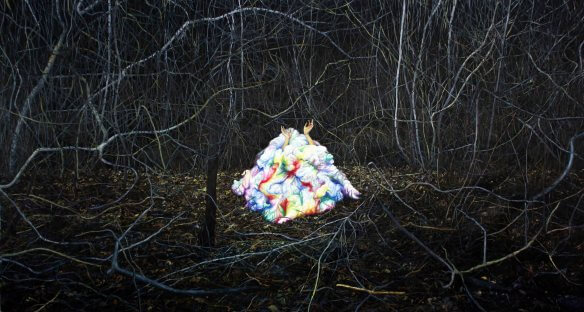 On his personal history: "I am born in a worker family, I am the only child in my family. We are really happy, even though we are not rich. I dream to be a painter when I was very young, and I had been working hard in this direction. In the 1990's because of the decline of heavy industry in my city, a lot of worker got laid off, and my parents got involved. At that time I began to think that whether I should go to the college or find a job to support my family. At last my father told me to be loyal to my dream and heart. I cannot become a painter without the support of my family!" "I went to Lu Xun Academy of Fine Arts at 2004, major in oil painting. After graduation at 2008, I become a professional painter at 2010. Before that I was a painting teacher."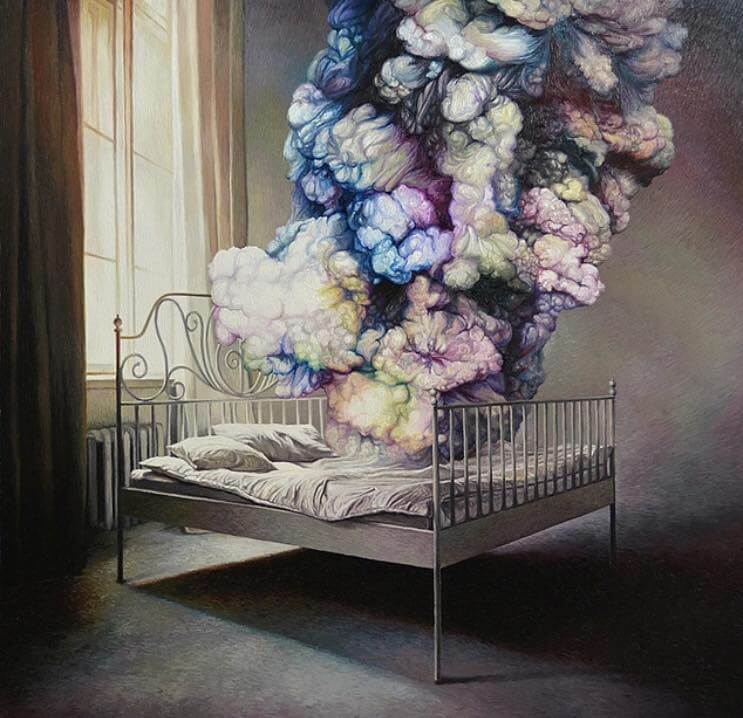 Shang mixes dreams and reality in his creations. He is also making his dream a reality by making these beautiful paintings and creations.
Shang works on many different series at once and often finishes giant paintings in a matter of days. Be sure to join his Facebook group here to watch his progress and stay current with his work. Chengxiang Shang's work can be found at Art Labor Gallery and ResArt.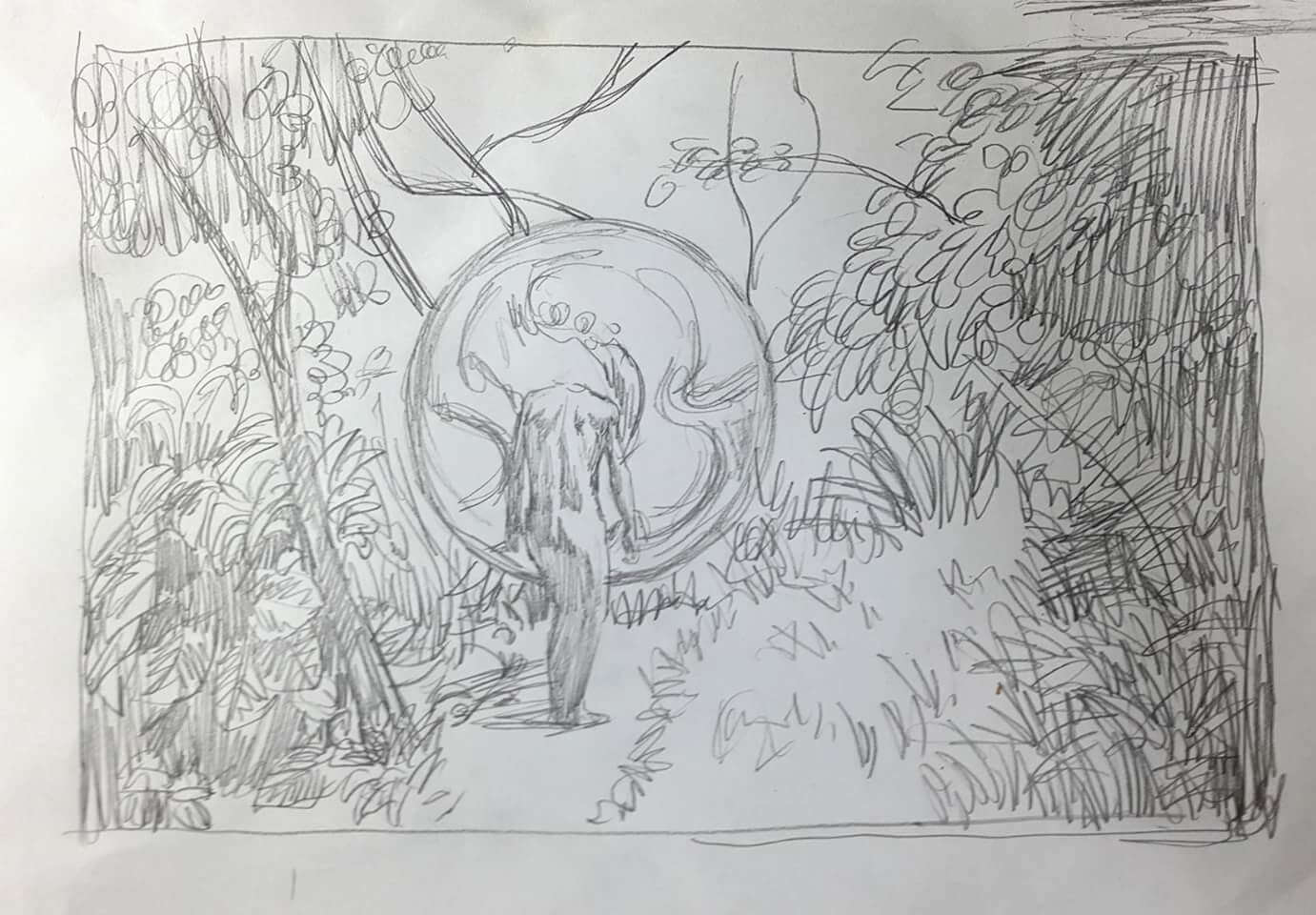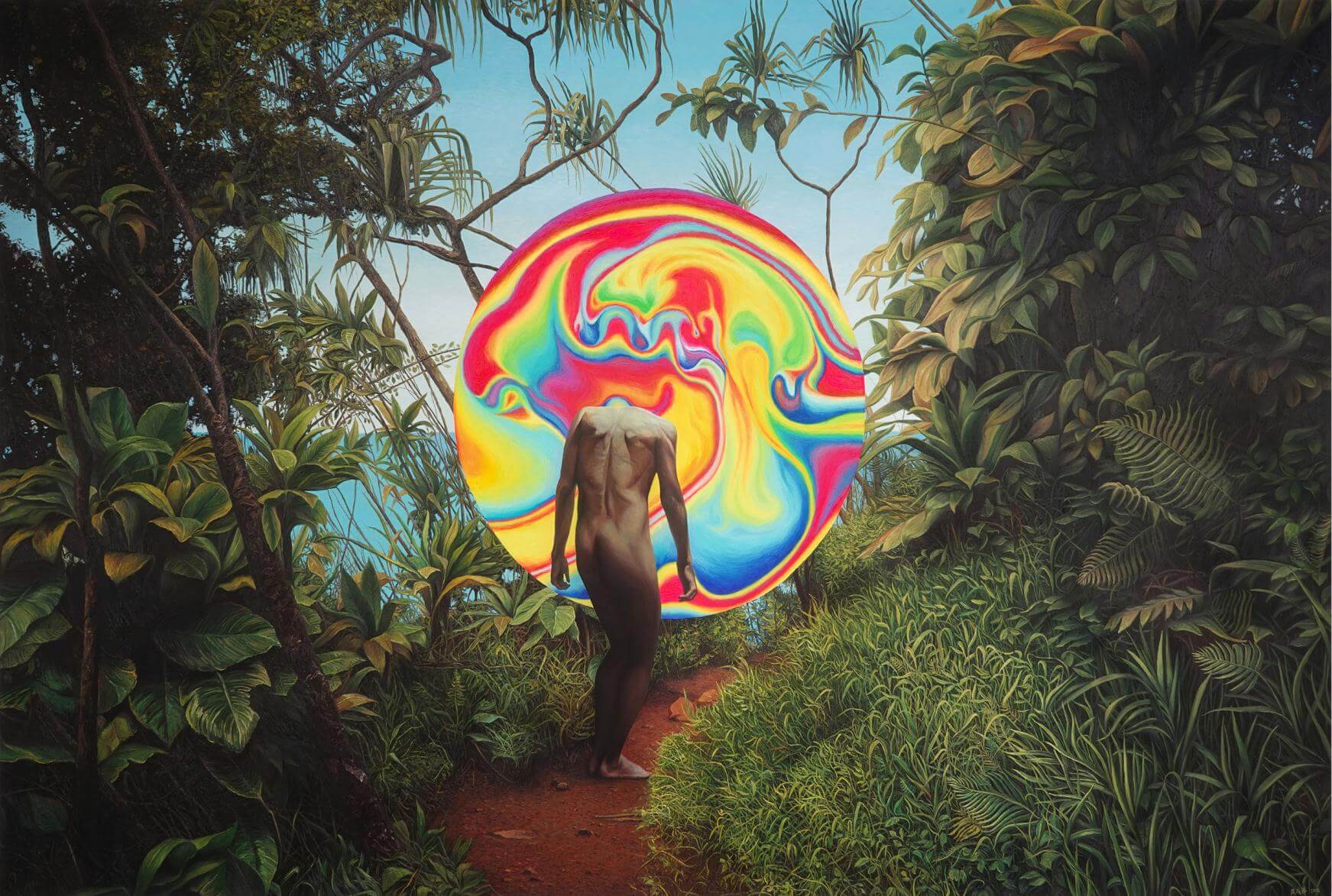 He is currently working on an exhibit that shows the artist's creative process. He will complete 2 paintings in 45 days. The first painting, the last in the borderline series, took 23 days    and here is day 5 of the second painting for the exhibit.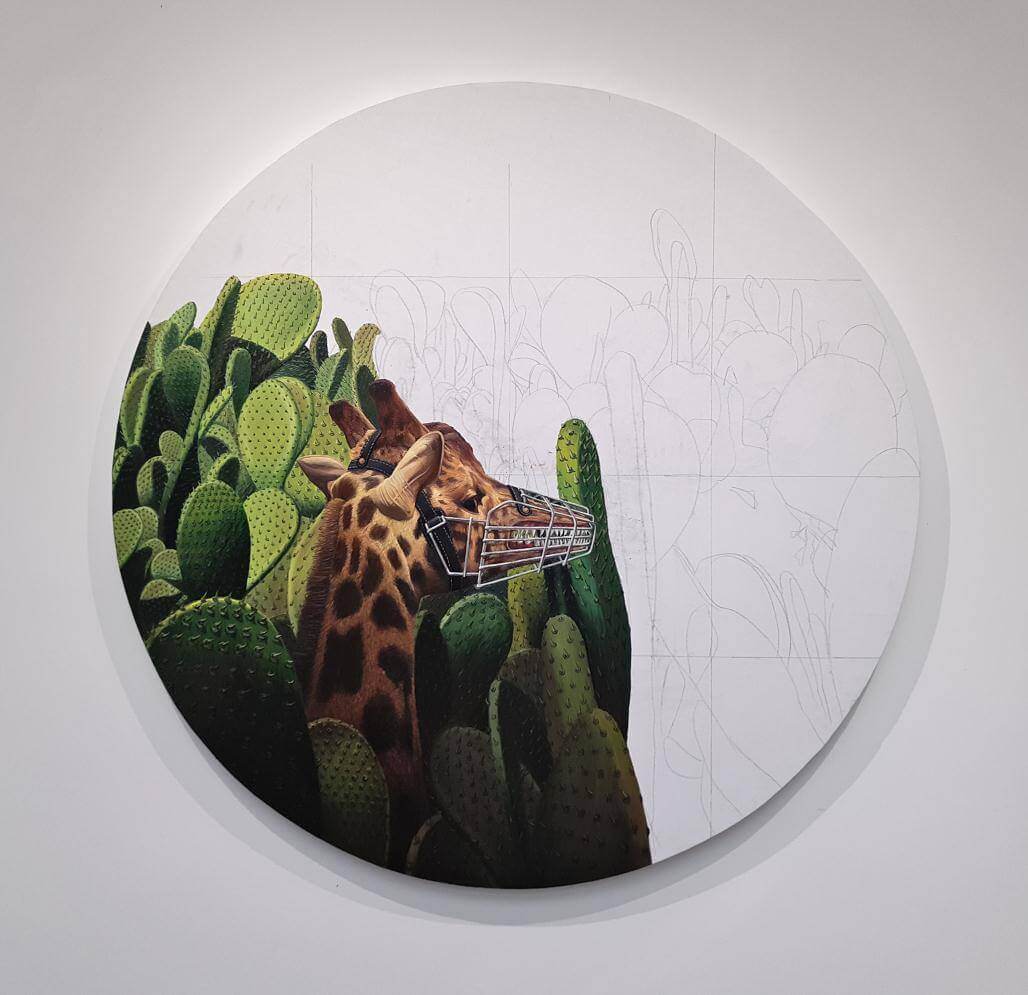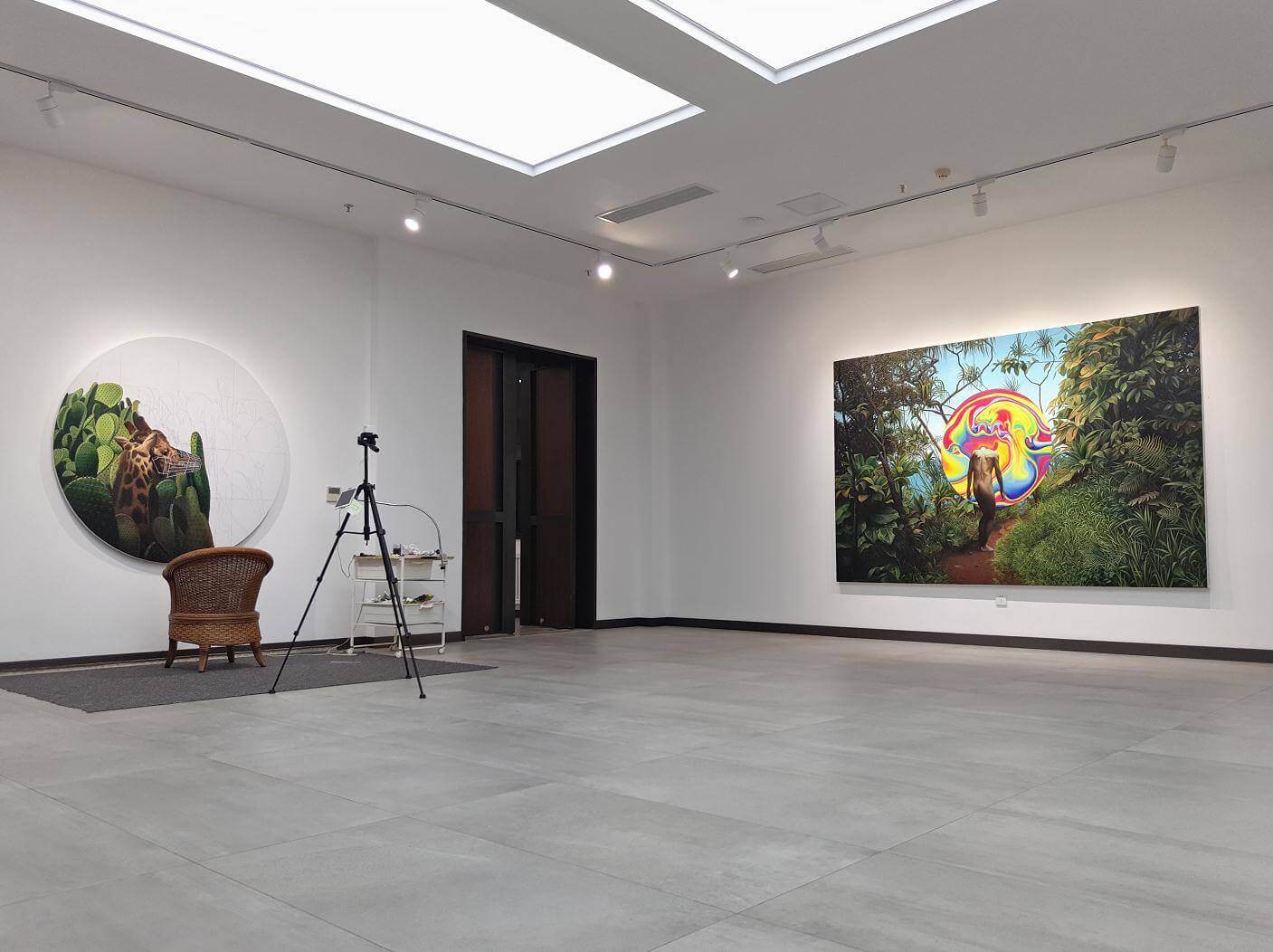 Shang Chengxiang born in 1985 in Shenyang
Lu Xun Academy of Fine Arts 2004-2008
Solo Exhibition
2018 "Borderline" ART LABOR Gallery, Shanghai
2015 "Threshold" space station Gallery, Beijing
2014 "cloud atlas" space station Gallery, Beijing
2013 "31.20 ° N-121.21 ° E", Shanghai SWATCH Art Center, Shanghai
2012 "wild dream", the space station Gallery, Beijing
Group Exhibition
2017″The unknown future "NIUMuseum, Shijiazhuang
2017″Premises of Affection "LinkGallery. Beijing
2017 "SIMULACRUM LIVING", Shenzhen Art Museum, Shenzhen
2017 "New Space" , ART LABOR Gallery, Shanghai
2017 "Theory of Evolution" space station Gallery, Beijing
2017 "Celebrating 10 years of ART LABOR", ART LABOR Gallery, Shanghai
2016 "Unkown Landscape without Anyone", EnjoyArtMuseum, Beijing
2016 "Fireflowers", ART LABOR Gallery, Shanghai
2016 "Qing Jin plan" Guanshanyue Museum, Shenzhen
2016 "King-style profile award", Today Art Museum, Beijing
2016 "Qing Jin plan" positive outlook Art Museum, Beijing
2015 "paradise on earth", Jinji Lake Art Museum, Suzhou
2015 "subconscious torrent", blue mirror Art Center, Beijing
2015 "Horse Ear Mountain plan," Shenyang
2015 "NAISSANCE", Today Art Museum, Beijing
2014 "Surface and marks", Shanghai SWATCH Art Center, Shanghai
2014 "sleepwalking color border", ART LABOR Gallery, Shanghai
2014 "in Wuhan – Fine Arts Literature Art Center decade" Fine Arts Literature Art Center decade, Wuhan
2013 "unlimited Trends" Open Art Space Shanghai
2013 "9m2 Art Museum", the German Consulate Goethe Institute, Shanghai
2013 "festival to enjoy the heat," Galaxy SOHO, Beijing
2013 "little victories gallery", Shanghai
2013 swatch Arts Center resident, Shanghai
2012 "return – a visual way," Lu Mei Art Museum, Shenyang
2012 "Presentation wrong track", Tang Contemporary Art, Beijing
2012 "many worlds" ladder Space Gallery, Beijing
2012 "tipping" Beijing International Exhibition Center, Beijing
2012 "Northern Mirror," He Hui Art Center, Shanghai
2011 "Social and Spiritual Practice Narrative" Blue Roof Art Museum, Chengdu
2010 "discovered" by the US Consulate in Shenyang Favorites
2009 "Ten years," Lu Mei Art Museum, Shenyang
2009 "Northeast. Northeast ", Incense blue Art Museum, Shenyang
2008 "New Northeast power", Highland Gallery, Beijing
2008 "New Vision '08: film", He Xiangning Art Museum, Guangzhou