Shock's 311 Never Ending Summer Unity Tour print
Darin Shock created an awesome print with 4 variants for 311's Never Ending Summer/Unity Tour print. They go on sale today (7/24) at 2pm ET on his website or you received one with your 311 VIP package. All are 24×18″, 6color screen prints. Here are his words on the print.
"Since I was a little kid, my Dad had a vintage Seeway jukebox in his living room. I was always fascinated by it and played it incessantly. He introduced me to a lot of music via this jukebox. He would also change out the records to reflect the season (such as Halloween records around Halloween, Christmas records around Christmas, etc.) which I loved. Basically, I've held this jukebox in high regard for a long time.
I therefore thought it would be interesting to depict my son, Oakley, standing in front of the jukebox…just as I did as a kid. On one level it's sort of a passing of time concept, which I thought would be fitting given 311's longevity. I find it compelling that so many fans are now able to share their affection for their band with their children…as my Dad did with me. On another level the design is about feeling youthful, curious and passionate about music. All beautiful things that I relate to 311 and their fanbase."
*I also wanted to note that the dates and cities of the Never Ending Summer Tour are listed in the spaces where song titles would normally be. In fact, there are a few song selections in there as well…all chosen by the band."
Rainbow foil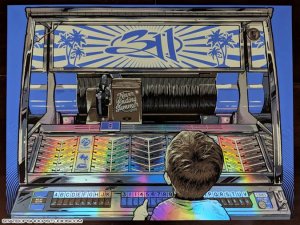 Thatched foil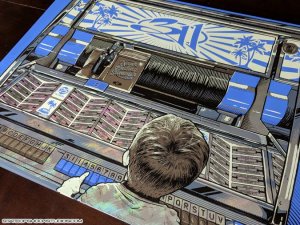 Tinsel foil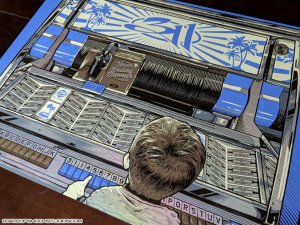 GID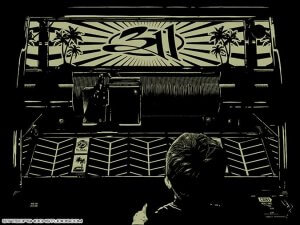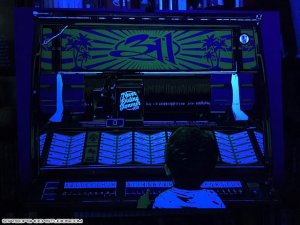 "The glow layer of the glow in the dark variant.
I wanted to mention that the glow in the dark properties of this print are fainter than my recent 311 Day GID. Basically, when a GID screen is printed over an ink (as is the case with the yellow on this) it's not going to glow as much as if it's printed over white paper. They still look cool though…especially under a blacklight."
As always, we look forward to see what else Darin Shock has in the works and I appreciate his words on the print and his inspiration for it.